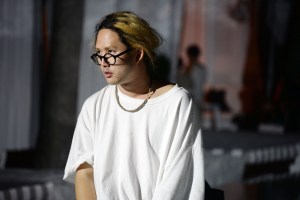 We've made it pretty clear that the trend of releasing trailers in advance of an exhibition is something we're totally down with. So wasn't it a treat to receive word this morning from Korakrit Arunanondchai, alerting us not only to his new exhibition—"Korakrit Arunanondchai (feat. boychild): Letters to Chantri #1: The lady at the door/The gift that keeps on giving," opening July 18 at The Mistake Room in Los Angeles—but also the trailer for said exhibition.
In line with his previous trailers, for exhibitions such as "Painting with history in a room filled with men with funny names 2 (Phrase I)" and "Muen Kuey (It's always the same)," his newest begins with the invocation "Dear Chantri…" and then glides over images of the beach, the artist slamming his body into a canvas, and some bubbles floating in a room. Some throbbing ominous techno sets the tone. At one point, Korakrit mashes paint all over Boychild's face while subtitles below declare, "But these paintings that you make / they suffocate you / this isn't freedom / it's not even REAL."
"It's one big installation that I have been working on for a while and is gonna be really intense (or at least the most epic thing I've ever done.)" Korakrit told us in an email. Rad. Do stop by.