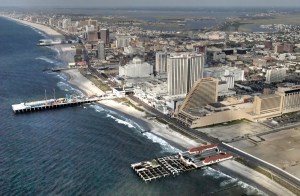 In an effort to mitigate some of the negative effects brought on by a sudden decline in Atlantic City's casino industry, three 2nd district lawmakers are calling on New Jersey's Casino Control Commission to get involved.
In a letter released earlier today, state Sen. Jim Whelan (D-2) and Assemblymen Vince Mazzeo and Chris Brown (D-2) urged the commission's members to "direct both the Showboat and Trump Plaza to remain open and the sale be delayed by four months to give buyers a real opportunity for the due diligence necessary for this type of sale."
Earlier this month, both the Showboat and Trump Plaza announced closures by August 31st and September 16th, respectively. Together the two casinos employee some 3,100 workers, all of whom are expected to lose their jobs as a result.
"Given the complexities of the situation here in Atlantic City, this two month timeframe is simply not enough time for potential buyers to do the appropriate research that acquisition of either property may require," they wrote. "A market analysis of potential uses (casino, non-casino hotel, condos, apartments, time share, etc.), an estimate of renovation costs, which requires engineering and architectural work, financing and many other factors need significantly longer than two months to come to fruition."
The lawmakers — each of whom have denounced the closings in recent weeks — cited a "moral obligation" to the thousands of families that would be affected.
"The interest of the multi-billion casino companies is very different than the public interest. The casino companies moved to close these properties as quickly as possible, shifting customers to other casinos they own in Atlantic City, a process already underway," they added. "The public interest is to try to keep these properties open, ideally as casinos but if that is not possible than in some other capacity. It would be a nightmare for Atlantic City to have a string of vacant properties along the Boardwalk like Atlantic Club, a situation orchestrated by joint venture between Caesars and Tropicana."
Ceasar Entertainment is the parent company of Showboat. The Atlantic Club, another Atlantic City casino fallen vicitm to a quickly disintegrating economy, closed its doors in January.
In addition to ordering the casinos remain open, the letter requests the commission "not only forbid any future deed restrictions that contradict City zoning but that Caesars be made to rescind any past deed restrictions for Claridge and Atlantic Club."
"We acknowledge the reality of the marketplace; industry contraction has to take place but in their rush to close Showboat and the Plaza, Caesars and Trump could do real, long term harm to Atlantic City," they said.
The New Jersey Casino Commission is an independent state agency charged with licensing the state's casinos and its key employees. It consists of three members, each appointed by the Governor and confirmed by the state senate.