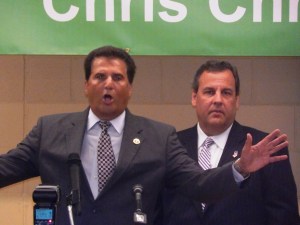 WEST ORANGE – It was Gov. Chris Christie, Essex County Executive Joe DiVincenzo and a leashed komodo dragon on the pavement outside the new education building, all present to augment the spectacle of a building officially coming to life in the lap of this massive county complex.
DiVincenzo and Christie have frequently used the setting to highlight their political love for each other, and although today was no different, the powerful county executive stopped short of slam-dunking his support for Christie in a national-sized contest.
"I'm a Democrat. And he was going to win," he cracked, referring to his support last year for Christie's re-election and reflecting on a possible cross-the-aisle endorsement of the governor as part of Christie's nascent presidential effort.
Asked if he backs Hillary Clinton for president, DiVincenzo said, "Of course," then added that he intends to support his party's choice.
"I'm going to back whoever [Essex Democratic Chairman] Leroy Jones is supporting," DiVincenzo said.
Contrary to many insiders' belief that Christie will abandon the governorship in order to focus full-time on a presidential campaign, the executive opined that he disagrees.
"No, he's sticking around," he said. "Everybody thinks he's leaving early, but he loves the job. If I was him, would never give it up."
DiVincenzo said he can see Christie leaving Drumthwacket only if he lands the GOP nomination for president in 2016.
As for his own upward mobility, "We're going to look at it after November," said DiVincenzo, referencing a possible future gubernatorial bid. "Listen, I've got one race at a time."
He's up again in November against token GOP opposition.