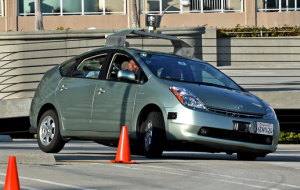 Starting next January, driverless cars will be allowed to freely roam on public roads in the United Kingdom. The Department for Transport's grand announcement is a shift from the current rules that only let driverless cars operate on private roads.
The government, however, is looking to expand its autonomous vehicle research sector to be competitive with other countries where the cars are allowed in public areas. And, as Gizmodo UK notes, competition is fierce. Google is using California to trial its driverless cars, a driverless Nissan vehicle has been already tested on Japan's roadways, and Volvo is planning to introduce 1,000 autonomous cars on Sweden's roads by 2017.
A £10m grant is also being offered up to a British city who offers to be a testbed for the potentially terrifying vehicles.
"Today's announcement will see driverless cars take to our streets in less than six months, putting us at the forefront of this transformational technology and opening up new opportunities for our economy and society," said Business Secretary Vince Cable.
We applaud Mr. Cable for his impressive restraint using car puns.