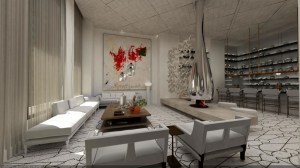 In a landscape where new luxury development (and there's scarcely any other kind), increasingly aims to deliver "concierge-style" services—responding, perhaps in part, to the lately expanded role in the market of the pied-à-terre with a full complement of dining, travel, entertainment and shopping-related extras—it seems odd that a hotel would model itself on "authentic" New York City-style apartment living. (That is, of course, until you see what is meant by "authentic.") Stranger still are the notions that a night or nights in a high-end hotel might represent a "true New York experience," and that New York apartment life can be somehow typified, standardized—embodied in the form of modern luxury condominiums. Nonetheless, such are the designs of the Marmara Park Avenue hotel, according to a recent write-up at Luxury Listings.
Currently under construction and scheduled to debut this fall, the Marmara Park, with interiors conceived by the artist and designer Joe Ginsberg, will represent the Turkish chain's second Manhattan outlet. Mr. Ginsberg, whose handiwork can also be seen at the Gramercy Park Hotel, previously told the Wall Street Journal that although his inspiration for the property "came from the desert, Namibia to be precise," he "still wanted it to have the New York City experience." This he planned to accomplish by mustering products from local artisans—glass-blowing Brooklynites, bronze casters from the Garden State—and by generally "keeping things in context with a New York attitude." What exactly that means, of course, is rather tough to say, though Mr. Ginsberg will contribute a number of his own works to the building's decoration, including a collage of parking tickets he collected in the 1980s called "Take the Bus," which, Luxury Listings considered, added "yet another layer of authenticity" to the hotel's experience.
But if locally-sourced accouterments and hard-won municipal fines seem unlikely alone to approximate "true New York experience," the Marmara Park has further stratagems to deploy. Rather than a lobby with a check-in counter, the hotel will have a lobby with two check-in desks, Luxury Listings writes, to, you know, "avoid that hotel feel." Marmara aims for a more homey sensation, too, in the rooms themselves, mind you, offering studios, one and two-bedrooms, and even a trio of penthouses. (Ah, the comforts of home!) All but the studios will have kitchens, though it's unclear whether the management will discourage guests from using them, the better to mirror how we real live New Yorkers take our evening meals. Fees for rooms full of luxurious custom and handmade finishes and fixtures will range from $500 to $10,000 a night, a small price to pay for the sort of touches which, Marmara manager Nur Ercan-Magden alleged, would be very like what true blue residents use to decorate their apartments.
To put it gently, all of this strikes us almost too muddled to parse. But one takeaway, perhaps, is that as Manhattan developers more and more construct homes that closely resemble luxury hotel facilities, builders of luxury Manhattan hotels won't have to put themselves out creating products that feel like anything other than what they are. They are of course, free to do so, as the Marmara Park Avenue amply demonstrates, but their efforts might well end up looking a little on the tortured side. Then again, silliness, even downright nonsense, can often be highly profitable.