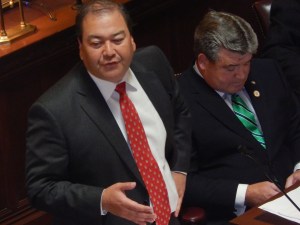 TRENTON – State Sen. Kevin O'Toole (R-40) enthusiastically backed Jersey City Mayor Steve Fulop in last year's local election.
He gave Fulop's campaign at least $25,000.
But O'Toole today got forcefully behind Assemblywoman Amy Handlin's (R-13) motion to refer to the state Attorney General's Office an allegation against Fulop made by the former police chief demoted by the mayor.
"When an allegation like that gets raised no one has to say there is guilt… it may be false, it may be contrived… if it rises to this level… at least refer it to the Attorney General," O'Toole said.
Here to listen to testimony by Gov. Chris Christie's chief of staff Regina Egea, the committee didn't want to collectively back Handlin's motion to get behind the letter.
Senate Majority Leader Loretta Weinberg (D-37) didn't dismiss the role the attorney general might have, but didn't see fit to put an exclamation point on Handlin's motion.
"It's up to the attorney general," Weinberg said. "I think it's a much more appropriate place than this committee. If we want to investigate abuse of power we will be here for five years. We are focused on the George Washington Bridge. What we hope comes out of this committee are some real legislative changes."