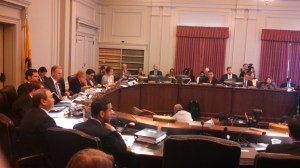 TRENTON – Senate Majority Leader Loretta Weinberg (D-37), co-chair of the Select Committee on Investigations, tried to ascertain from Regina Egea what, if anything, Gov. Chris Christie's director of the authorities unit knew about the infamous traffic snarl at the George Washington Bridge that infamously jammed up her boss.
"Once you saw those clips did you think there was anything further – I know hindsight, I know all the proverbs – but there was at least one clip that came to your attention and there were huge traffic jams," Weinberg said. "Folks couldn't get through. …It was beginning to become a story."
Did Egea get involved on any level?
She said she didn't.
"I certainly would have cooperated in any part of it," today's SCI witness told Weinberg.
She had some post traffic jam communication with former Port Authority Deputy Director Bill Baroni, who told her he was conducting his own review of the mess, according to Egea.
But "I can't produce an email and I did not receive anything from him," said Egea, who is Christie's incoming chief of staff. "I don't have any recollection."
Egea started out the hearing by telling the committee that she had "no participation" in the GWB debacle.