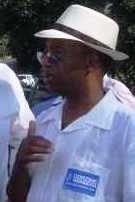 The Election Law Enforcement Commission (ELEC) today zapped Essex County Freeholder Bilal Beasley with a $12,351 penalty for filing late ELEC reports in 2011.
Beasley missed three filing deadlines and submitted paperwork 899, 881 and 850 days respectively, disclosing contributions totaling $5913.85 and expenditures totaling $5913.85, according to ELEC.
Reprimanding the freeholder, the Commission imposed a penalty in the amount of $11,825.00 for late filing of Forms R-1, plus a $500 surcharge for the Respondent's previous violation and $25.60 in sheriff service fees, totaling $12,350.60.