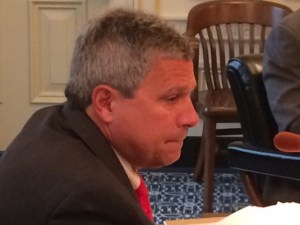 County party officials are gradually rebuilding their financial reserves in a year with no state campaigns but with most counties hosting elections for at least some positions, according to the latest reports filed with the Election Law Enforcement Commission (ELEC).
Quarterly reports filed by county parties showed their combined reserves grew from $1.3 million to $1.5 million since March. Those reserves are smaller than the $1.6 million raised during the same period last year, when there was a governor's race and all 120 legislators were running. However, the combined war chest is larger than the $1 million amassed in 2012, another year with no major state campaigns.
Candidate reports indicate there are county executive elections in Essex and Bergen counties this year, as well as elections for freeholder, sheriff, clerk and surrogate posts in several counties.
"For the second quarter in a row, it looks like county party fundraising may have hit bottom in 2012," said Jeff Brindle, ELEC's Executive Director. "County party fund-raising is sort of like the national economy. It is not going gang-busters. But it appears to be slowly on the upswing."
Below, find receipts, expenditures, cash on hand, followed by net worth for all County Democratic party organizations:
Atlantic
$ 18,706
$ 14,909
$ 13,412
$ 13,412
Bergen
$ 181,783
$ 168,381
$ 13,627
$ 69,960
Burlington
$ 30,002
$ 26,085
$ 7,501
$ (78,466)
Camden
$ 162,019
$ 185,988
$ 64,233
$ 64,233
Cape May
$ 3,200
NA
$ 103,166
$ 103,166
Cumberland
$ 12,550
$ 12,583
$ 7,457
$ 7,457
Essex
$ 139,090
$ 107,652
$ 149,834
$ 149,834
Gloucester
$ 51,436
$ 86,123
$ 21,607
$ (26,420)
Hudson
$ 149,663
$ 169,673
$ 37,032
$ (270,508)
Hunterdon
$ 6,973
$ 7,192
$ 4,740
$ 4,740
Mercer
$ 60,330
$ 72,324
$ 21,123
$ 21,123
Middlesex
$ 176,363
$ 184,426
$ 4,163
$ 4,163
Monmouth
$ 70,769
$ 62,505
$ 15,126
$ 15,126
Morris
$ 24,500
$ 39,849
$ 6,779
$ 6,779
Ocean
$ 27,039
$ 24,483
$ 16,171
$ 32,337
Passaic
$ 130,740
$ 103,020
$ 282,893
$ 282,893
Salem
$ 5,630
$ 9,027
$ 49,202
$ 49,202
Somerset
$ 16,762
$ 21,392
$ 11,953
$ 11,953
Sussex
$ 3,890
$ 4,719
$ 3,840
$ 3,840
Union
$ 122,100
$ 98,517
$ 124,884
$ 116,330
Warren
$ 3,694
$ 1,478
$ 4,555
$ 4,555
Democrats-Total
$ 1,397,239
$ 1,400,325
$ 963,300
$ 585,711
Republican totals are below, again: receipts, expenditures, cash on hand, followed by net worth for all County Democratic party organizations:
Atlantic
$ 20,725
$ 32,342
$ 31,186
$ 31,186
Bergen
$ 77,565
$ 73,480
$ 12,637
$ 12,637
Burlington
$ 254,838
$ 260,497
$ 10,674
$ 820,611
Camden
$ 9,563
$ 9,062
$ 22,466
$ 23,358
Cape May
$ 65,500
$ 30,885
$ 45,561
$ 45,561
Cumberland
$ 19,968
$ 21,089
$ 45
$ 45
Essex
$ 4,000
$ 2,503
$ 2,390
$ 2,390
Gloucester
$ 25,924
$ 24,558
$ 2,554
$ 2,554
Hudson
NA
Hunterdon
$ 27,424
$ 17,510
$ 32,817
$ 32,817
Mercer
$ 15,697
$ 11,849
$ 4,673
$ 4,753
Middlesex
$ 20,549
$ 11,240
$ 17,880
$ 17,880
Monmouth
$ 86,237
$ 78,525
$ 12,478
$ 12,478
Morris
$ 59,713
$ 50,889
$ 36,455
$ 36,386
Ocean
$ 67,676
$ 113,610
$ 12,183
$ 7,183
Passaic
$ 31,473
$ 25,247
$ 5,530
$ 5,530
Salem
$ 18,923
$ 20,199
$ 12,105
$ 12,105
Somerset
$ 137,408
$ 91,126
$ 240,984
$ 238,906
Sussex
$ 16,025
$ 16,465
$ 15,860
$ 15,860
Union
$ 12,390
$ 9,045
$ 3,354
$ (10,704)
Warren
$ 10,550
$ 15,818
$ 6,927
$ 6,927
Republicans-Total
$ 982,148
$ 915,939
$ 528,760
$1,318,464