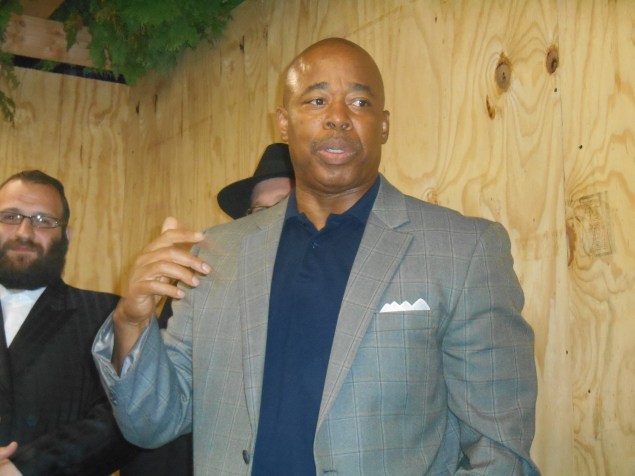 Brooklyn Borough President Eric Adams and Councilwoman Laurie Cumbo–along with community groups and developer Forest City Ratner–announced today a series of seminars to help Brooklynites apply to affordable housing lotteries for new units in the borough.
The five free workshops will help applicants clean up their credit scores and avoid potential pitfalls that can lead to rejection from the reduced-cost residency sweepstakes–trip-ups like using white-out on an application, or having separated parents both claim the same child as a dependent. Mr. Adams said the program will relieve economic pressure on residents, improve employment, and promote Mayor Bill de Blasio's goal to create or preserve $200,000 units of affordable housing.
"This will allow people to live, stay and play in the borough of Brooklyn and also to be employed," Mr. Adams said at a Brooklyn Borough Hall press conference.
Ms. Cumbo said the classes represent the realization of one of her promises when she was running for her seat last year.
"This idea really grew out of a conversation I had on the campaign trail," Ms. Cumbo said. "I want to make sure that everyone who wants to live in Brooklyn has the opportunity to do so."
Mr. Adams and Ms. Cumbo noted that 50 percent of the 1,100 affordable units under construction in downtown Brooklyn are set aside for longtime Brooklynites, but that many of those in need of low-income housing face significant hurdles when applying. Critics have knocked development in the area, particularly the Forest City Ratner-driven Atlantic Yards project, for failing to deliver on its affordable housing promises.
The first seminar will be on July 31 at Brown Memorial Baptist Church, the second on November 13 at the Hanson Place Seventh-Day Adventist Church, the third on February 4, 2015 at Pratt Institute, the fourth on June 10, 2015 at Ingersoll Community Center and the fifth on October 5, 2015 at Church of the Sacred Heart.