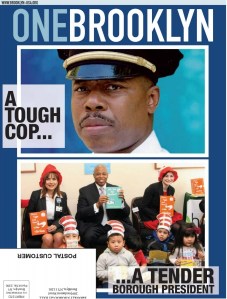 Tender is the newsletter.
Brooklyn Borough President Eric Adams, elected just last fall, declared himself a "tough cop" and a "tender borough president" on the front page of his very first newsletter. Mr. Adams, a former police captain and state senator, revamped the newsletter of his jovial predecessor Marty Markowitz, transforming it into a newspaper-style periodical that is all about the new beep.
"The cover of our first newsletter is not only eye-catching, it encapsulates the story of Borough President Adams and his approach to public service; Brooklynites will be pleased to read its contents and find the substance that matches his style," said Stefan Ringel, a spokesman for Mr. Adams.
The newsletter, printed by the Queens Courier with postage paid by the borough president's office, features Mr. Adam's stern visage in an upper panel contrasted with a gentler image in a lower panel, the hands of the beep clenched on a Dr. Seuss book. Children in "Cat in the Hat" hats sit in front of the borough president, who has introduced the slogan "One Brooklyn" to define his new administration. (Though Queens-based, the Courier also prints the Bay Ridge, Brooklyn newspaper the Home Reporter, Mr. Ringel was quick to note).
The newsletter itself, clocking in at 28 pages, is an ode to Brooklyn and Mr. Adams. Much like Mr. Markowitz, Mr. Adams wants Brooklynites to know exactly what the beep has been up to: there is a lengthy bio of Mr. Adams, photographs of the borough president at various community events, a story about Mr. Adams' commitment to renewable energy and a story about his advocacy of the mayor's plan to reduce pedestrian fatalities, among others. The stories have accompanying photographs of Mr. Adams.
Mr. Ringel said it was not clear yet what the print schedule would be for Mr. Adams' newsletter. A first mailing went out to 440,000 households, he said.
For Mr. Adams himself, the newsletter marks the first six months of his borough presidency.
"The first six months of my administration at Borough Hall have been a great start toward building One Brooklyn, and this introductory newsletter connects hundreds of thousands of Brooklynites with our office's efforts, engaging them in what will be an ongoing dialogue about strengthening our borough and getting involved in our community," he said.