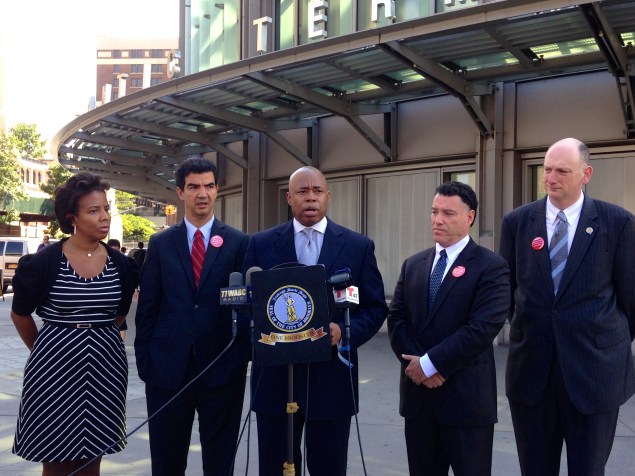 Brooklyn Borough President Eric Adams backed Mayor Bill de Blasio's decision to take a 10-day vacation to Italy with his family, even though it might coincide with the looming Long Island Railroad strike—and said he himself is looking to get away.
"This strike and a contingency plan are not tied to the mayor's trip to Italy," Mr. Adams said. "There is always going to be another issue that comes up, and so in that case we're saying the mayor should never take a vacation. I don't believe so, I'm looking to take a vacation as soon as I can to get out of here for a little while."
He also stressed the mayor had a right to spend time with his family. "I think he should take a vacation whenever he believes his family deserves it," he said. "We're going to be alright, we have enough professionals in the city to run this city."
Mr. Adams, at a press conference at the Atlantic Avenue LIRR Terminal where he called on the MTA for a comprehensive contingency plan that would include Brooklyn commuters, added that the city couldn't stop running due to a mayoral absence.
"There are deputy mayors, deputy commissioners, commissioners, other lines of government that are in charge of how the city continues to run and so, if the mayor goes on vacation, the city can't stop," he said. "If we can't function merely because the chief executive is not here, then we are not as good as we think we are as New Yorkers."
Yesterday evening, Mr. de Blasio appeared on the Colbert Report and said the LIRR was under Gov. Andrew Cuomo's jurisdiction, and he hoped that a solution could be reached soon. He did not, however, reveal if he was thinking about altering his holiday plans, and previously would not commit to coming home in the event of a strike.
This morning, Mr. Cuomo announced that some progress had been made. "The parties returned to the negotiating table yesterday morning at my request. Late yesterday, when the conversations had not been fruitful, I began participating in them directly. Those conversations proceeded until late into the night," he stated.
If no deal is reached, the strike is set to start in less than 48 hours.