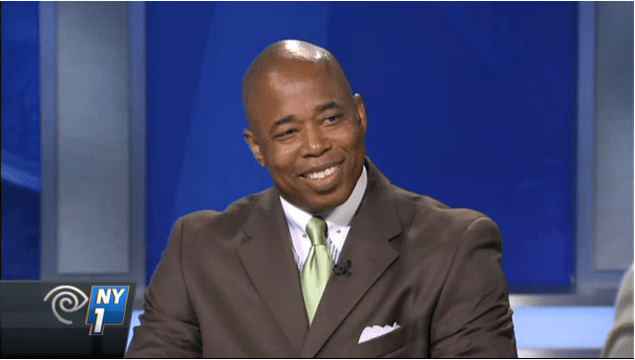 He's only been Brooklyn's borough president for six months, but Eric Adams is already looking eight years ahead—to City Hall.
Mr. Adams didn't dispute it when Inside City Hall's Errol Louis said Wednesday the beep had "basically been announcing" a run for mayor in recent speeches.
"You're only six months in this job. I understand the power of positive thinking, but why tell everybody you're running for mayor?" Mr. Louis asked.
"I want to do a good job as borough president. God willing, I'll be re-elected. Eight years down the line, we're going to have a new mayor," Mr. Adams replied.
He recalled the encouragement he'd offered to children at 25 graduations this year.
"I tell them think big, dream big, be big in what you do—there's nothing we should tell people not to reach for their next level," Mr. Adams said. "I'm going to do a great job as borough president, I have a great borough president that I'm following. Brooklyn is the center of the greatness that is happening in the city of New York and I'm going to be a part of that."
And while he's still borough president, he's going to continue traveling outside the country to boost Brooklyn's profile, Mr. Adams said after Mr. Louis pressed him repeatedly on whether a recent trip to China, funded by nonprofits, was appropriate.
Asked if he would decline money from nonprofits and the Chinese government if he could do it again, Mr. Adams responded: "No. It's totally appropriate."
He said he wouldn't apologize for traveling the globe to "bring business to the borough of Brooklyn."
"I'm not going to be a MetroCard borough president—I'm going to be a passport borough president," he said.