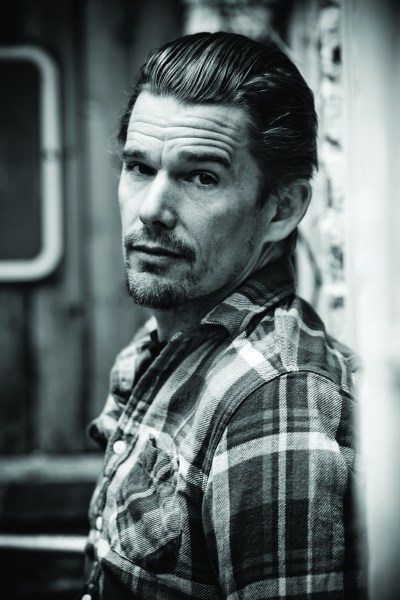 Ethan Hawke sprawls in a trailer in Santa Fe, New Mexico, on the set of the Western In a Valley of Violence. He's covered in dust down to his spurs. "When I take a shower mud runs off my back," the actor explains over the phone. "Right now, I'm trying to suck up a little air conditioning before I get called back on set." 
When Mr. Hawke, looking for privacy, exits the trailer into the 98-degree heat, the wind snatches his words and treats his mobile like a beatbox. We are discussing Boyhood, Richard Linklater's family epic shot over a dozen years in Texas. The film's genius—it won the Silver Bear for Best Director at the Berlin Film Festival and was the surprise hit at Sundance, amid rumors that an American masterpiece had been born—is that the childhood of Mason Jr. (discovery Ellar Coltrane) unfolds like time-lapse photography, transforming from a pudgy-cheeked angel into a stubbly teen, from grade one through 12, right before the audience's eyes. The effect is mind-blowing. 
| | |
| --- | --- |
| 'What's so fun [about] these movies is to not act at all, to completely blur the line between character and performance.' | |
As Mason Sr., Hawke has the critical role of a deserting dad who flees to Alaska when Mason Jr. and his older sister, Samantha (Mr. Linklater's daughter, Lorelei), are young. The prodigal father returns early in the movie, but the damage is done, including an irreconcilable rift with his wife, Olivia (Patricia Arquette), which defines the family and shapes the kids. 
"Rick [Linklater] and I both felt the project was an opportunity to create a portrait of fatherhood," says Mr. Hawke. "Both our fathers were in the insurance business in Texas. Both found happiness in their second marriages." The movie, initially tagged The Twelve Year Project, parallels this, as Mason Sr. trains to be an actuary, meets and marries a younger woman from a religious family, has a baby son and trades in his black GTO with the throbbing engine for a minivan. 
"The movie became this 12-year meditation on the things Rick and I were learning as parents, and also as children," Mr. Hawke continues. "My parents' divorce was the dominating factor in my psyche, and to relive that from the parental point of view is not anything I ever wished for." 
Mr. Hawke, 43, who lives in Boerum Hill, has four children. He fathered Maya and Levon with his Gattaca co-star Uma Thurman, a high-profile match that ended with a messy public divorce in 2005. He remarried in 2008. His second wife, Ryan, worked briefly as a nanny for Maya and Levon before graduating from Columbia University. Together they have two daughters, Clementine Jane and Indiana. 
In some ways, making Boyhood has been an extended course of therapy. His parents were in high school when they fell in love, and his mother 18 when she had Ethan. They split about five years later. 
"One wonderful thing about divorce," Mr. Hawke says without irony, "is that it provides an opportunity to bring you closer. Life's not perfect, and children of divorce learn that earlier. I know my mom and dad more intimately than some of my friends whose parents stayed together."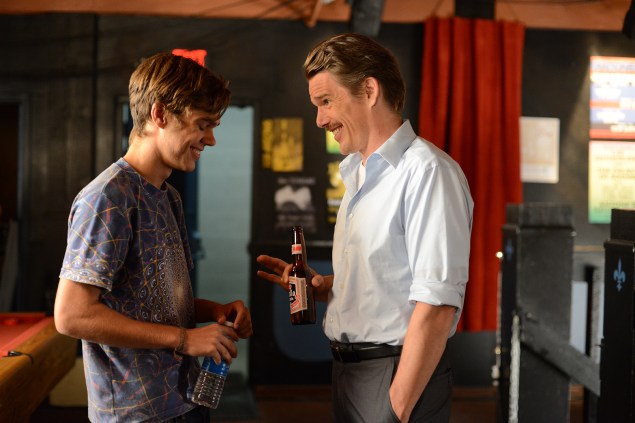 The last time I saw Mr. Hawke was last winter in Manhattan while moderating a panel on Before Midnight, the final installment of the Before trilogy, which Mssrs. Hawke and Linklater have been collaborating on since 1995. (Before Midnight had just come out.)
 Mr. Hawke was also appearing in Macbeth at Lincoln Center and enduring iffy reviews. ("His is a mumblecore Macbeth," Ben Brantley snarked.) The actor was dressed like a Steinbeck farmhand, sleeves rolled up on a red bandana print shirt, frayed cargo pants revealing a gap of shin when he crossed his legs. His slicked-back hair was just enough beyond greasy to say actor, not movie star.
We had a long discussion before a theater full of actors about the lengthy and challenging scenes in Before Midnight where Mr. Hawke and his co-star Julie Delpy would simply walk and talk.
Illustration by Ralph Steadman

After an early screening, a woman approached Mr. Hawke and asked why Mason Sr. did not pay child support. The actor replied, 'You just imagined that. Mason clearly gives Olivia an envelope.'
For those scenes, the casual gestures, even the overlapping words, were scripted and methodically rehearsed. Achieving this level of naturalism was particularly challenging in Boyhood, a production that was shot in short segments over a dozen years with many amateurs, including Mr. Coltrane, the young star. "Put Patricia and I next to children non-actors and it shows if you are being the least bit actor-y," said Mr. Hawke. "It's moment-to-moment work trying to embody the character and be present with no effort to drive a plot."
Ms. Arquette chimed in over the mobile phone: "The  Before  trilogy is so much about the intimacy of relationships; Rick and Ethan have had such an intimate relationship. That's part of what drives this movie."
Indeed, over eight films, including the Before trilogy, Waking Life (2001) and Boyhood, these two sensitive Texans, Mssrs. Linklater and Hawke, have created an extended partnership, like Martin Scorsese and Leonardo DiCaprio or Wes Anderson and Bill Murray.
"I feel incredibly lucky to have found this working relationship with Richard," Mr. Hawke said. "What's so fun [about] these movies is to not act at all, to completely blur the line between character and performance to make it seamless in service of the story. I poured a ton of me into Boyhood. It's as personal as the trilogy. One is a meditation on romantic love, and one is a meditation on family, and they do overlap."
Pushed for specifics, Mr. Hawke initially balks, like an illusionist unwilling to source his tricks. "Sometimes if you talk . . . you rob the whole thing of its magic. Rick doesn't ask you to work for him, he asks you to contribute." The result is scripted realism, as opposed to a scripted reality show, and for Mr. Hawke the degree to which the finished project is universal has been overwhelming.
"So many couples have approached me and said watching the film was like you had a microphone in my dining room, or 'You were just like my father,'" he said. In one particularly poignant scene, Ms. Arquette's Olivia slumps in the dining room, watching her son pack his truck for college. All the rites of passage in her life are over except her final exit, she laments, before bursting into tears. "That's exactly what my mother said to me," Mr. Hawke recalls. "I told that story to Rick about a decade ago. When my mother dropped me off at college she said it was the first time she realized she was going to die."
***
FOR MR. COLTRANE, now 19, Mr. Hawke loomed large in his own boyhood. Every year the production spent four or five days rehearsing and workshopping the script, followed by three or four days of shooting. Was Mr. Hawke ever a substitute father? "Ethan was more of a mentor. Being around Ethan, I gradually grew into a collaborator on writing the scripts and developing the characters." 
Mr. Hawke recalls the transition: "There was one year in particular. We were shooting the camping scenes. It was clear that Ellar had seen Waking Life and he was beginning to understand what kind of film this was and how to contribute. For the first time Ellar and I did actual improv. I saw him blossoming. Adolescence can kill creativity." Pausing as if to remember his own teen years—he was 14 when he starred in Explorers with River Phoenix, 18 when he broke out in Dead Poets Society—he continues, "It was clear in that episode that Ellar was surviving adolescence.  He had an intellectual curiosity that reminded me of River. River was homeschooled like Ellar. I went to public school. I ate at McDonald's. Listening to Ellar talk intelligently about Waking Life it was clear to me that the project had gotten extremely lucky." 
***
RAISING TWO CHILDREN of divorce, and being the child of divorce, has defined Mr. Hawke, but he's not alone in bringing life experience to the material. After an early screening, a woman approached Mr. Hawke and asked why Mason Sr. did not pay child support. The actor replied, "You just imagined that. Mason clearly gives Olivia an envelope." 
Like that woman in the audience, I'm also guilty of projecting. I see my own 18-year-old in Mason Jr. and side with the wife saddled with the bills and the daily minutiae of parent-teacher conferences and squabbling kids, while working her way through college. I asked Mr. Hawke to discuss a pivotal exchange between Mason Sr. and his ex-wife while the couple is momentarily alone in her kitchen at their son's high school graduation party. It seemed to me that in that scene Mason Sr. realizes he might have missed the boat, that if he was as together when the kids were young as he is now, starting a second family, he could have stayed married and spared his family a lot of heartbreak. 
Mr. Hawke sees it differently: "I think you make some funny—female perhaps?—assumptions in that question. I don't believe Mason Sr. thinks he missed any boat—I think he believes he was kicked off a boat … Often the father is dealing with much less time and the kids are growing up in a household filled with negativity toward the father.
"When people are young they tend to be idealistic, which can be a spin on uncompromising, which can be a spin on prideful," Mr. Hawke says. "They come and go with the wind. There are a lot of the roads not taken in that kitchen scene." 
Mr. Hawke continues, "It's the story of a guy who really ended up showing up as a father, but there's damage done. He's not a guy who dreamed of driving a minivan, but he needed to do that to be the father … It seems to me that Mason Sr. is happy with his life—I think he's just melancholy that he and his ex couldn't find that happiness together. They are both good people—the math could have worked. And if it had, the path could have been so much less windy and circuitous than they'd made it for themselves."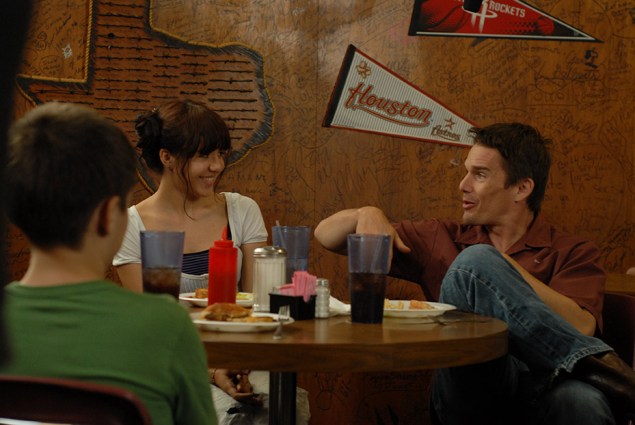 MR. HAWKE FIRST SAW Boyhood with an audience at a sneak preview at Sundance. Even though he'd been a participant, the movie took him by surprise. 
"What amazed me most was that when you're working with Rick, there's the wild jazz feel, willy-nilly, that anything can happen and anything that does is okay. You're just winging it. 
"And, then, when I saw it at Sundance, it looked and felt exactly the way it would when Rick told me about it 15 years ago. The words are a little like lyrics in the song, but it's the music that Rick really understands. And there's a music he knew, this epic about mundane moments. I couldn't believe my friend had done this. It was his dream. To have worked with somebody for 20 years—five of my favorite movies—every one of those movies I've been surprised to find myself in the middle of this collaboration." 
For Mr. Hawke Boyhood marks a milestone, but also brings a realization that time itself changes as you get older. And it begs the question: Where does he see himself in seven years, at 50, no longer the boyish boy of the movies? 
"This marks my 30th year of making movies. I feel bowled over by that. I'm out here in the desert making a spaghetti Western and talking about one of the most revolutionary movies I've seen in a long time. The one thing that I've taken from this experience is that I've been through the grind of daily life. You trick yourself that all the minutiae of life doesn't matter, but it does. That's what the movie is about." 
"When the movie ends with Mason Jr., it's one life in a series of dominoes. He has an idea that he's completely autonomous. But so much of who he is originates with his parents, his sister, and not just his family but Texas, and not just Texas but America, and not just America but 2014. We think we have agency." 
What we have are choices. 
Hawke will be making the festival rounds this fall with the documentary he directed entitled, Seymour: An Introduction, about the 86-year-old piano teacher, Seymour Bernstein. The actor is also talking to Mr. Linklater about a project on the Transcendentalists: "Emerson, Thoreau, and the gang … It's a kind of Coast of Utopia for Americans." 
And with that, a meditative Mr. Hawke, no longer quite so boyish but still curious and searching, walks away, spurs jangling.