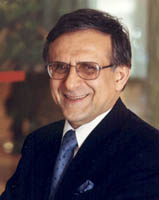 TRENTON – The Iranian-American professor from Rutgers University that Glenn Greenwald alleges was spied on by the U.S. government says he's "not surprised" his name was found on the list of Muslim-American leaders the FBI and National Security Agency kept tabs on between 2002 and 2008.
Hooshang Amirahmadi (pictured), a professor and former director of the Center for Middle Eastern Studies at Rutgers, told PolitickerNJ that he's "disappointed" by the revelations, which are a product of the latest round of secret documents released by whistleblower Edward Snowden. But he added that he thinks the surveillance is a natural result of his work abroad.
"I was obviously not expecting to be on the list, I had no idea I was on the list, but as I say I am not surprised," Amirahmadi said in a phone interview today. "I have been involved for the last 25 years in the most difficult relationship between the U.S. and Iran ever. It's very inimical, both sides hate each other, they distrust each other, they accuse each other of all kinds of bad things and behavior. And I was in the middle of it, with a group of very, very high profile, distinguished Americans trying to mend these relations, and bring some kind of reason to this relationship."
According to Greenwald's report in The Intercept published earlier today, the NSA, together with the FBI, covertly monitored five Muslim-American leaders active in politics and civil rights over the course of six years. Amirahmadi, who serves as the founder and president of the American Iranian Council, a nonprofit group devoted to public policy research on the relationship between the U.S. and Iran, as well as the president of Caspian Associates, a consulting firm that works with developing nations, was among those Muslim-American leaders.
The individuals appeared on an NSA spreadsheet obtained by Snowden called "FISA recap" — short for the Foreign Intelligence Surveillance Act — along with the names and addresses of foreigners who the government believes are linked to Al Qaeda, Hamas, and Hezbollah, according to the report.
Contrary to what many have suspected, Amirahmadi said he doesn't believe he was targeted because he is Muslim. He credits it to his involvement with AIC and his work in foreign relations, which often took him between London, Iran and the U.S. He said his efforts to mend relations between the latter two countries sometimes put him at odds with American foreign policy.
He added that Greenwald's original report incorrectly identified him as atheist, even though he is a Muslim.
"At times our voice was not in accord with U.S. policy, or at least in their direction. We were not in support of sanctions, we opposed use of force, but at the same time we were against Iranian nuclear development, we were against Iran's abuse of human rights, we were against activities against the Israelis and so on," he said. "We believed we had a very positive view of U.S foreign relations, we wanted diplomacy and negotiations and indeed at the end of the day since we started advocating 25 years ago it looks like it's working."
"I was not surprised with the article because Mr. Greenwald had contacted me a month ago and told me my name was on the surveillance list, and even before the article was published they told me the article was coming at midnight [last night]," Amirahmadi added, referring to the report. "So I always knew it was coming. They asked me for an interview on the subject and I told them no, no interview on the subject, all discussion is off the record. And they have honored that, except in one place where they wrongly reported that I am an atheist. That's not true."
Amirahmadi said he is a secular Muslim, and doesn't actively practice Islam.
The surveillance is the second instance of Muslim-Americans in the greater New York state area — and specifically at Rutgers — being subjected to monitoring by federal law enforcement. Most recently, the New York Police Department was found engaged in widespread surveillance of Muslim student groups, businesses and houses of worship in New York and New Jersey as part of counter-terrorism efforts in the wake of 9/11.
Amirahmadi said his work involved interacting with notable public officials, including Vice President Joe Biden, Secretary of State John Kerry, Secretary of Defense Chuck Hagel.
"They were a very high profile group of people working to bring some voice of reason to the situation, of course all on the basis of American interests and on the basis of American national Security," he said. "Everything was on the record, transparent, open."
At the end of the day, Amirahmadi, who lives in Princeton, doesn't feel personally injured by the news. He said his frequent flights back and forth to Tehran, his relationship with the Iranian government, and his work with AIC all came together to make him a person that "maybe needed to be understood better."
"But then again I understand it, and I am not at all dismayed. I have no grudges against the NSA. I am disappointed, because I think if they spent all that time and money on a different person, they might have gotten a better result," he said.