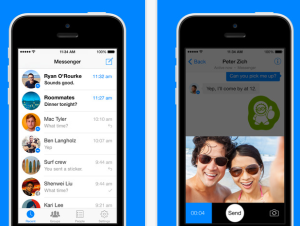 Facebook is being annoying — again. The social network is done letting you instant message your friends in its main app and instead will now force you to download another battery-sucking app dubbed Messenger.
The company announced the sweeping change in April, but it didn't go into immediate effect. For the last few months, however, the dual-app strategy has only been tested in Europe. Yesterday, Facebook said the test has garnered "positive results" and will unfurl the pain worldwide soon.
Messenger boasts a 20 percent faster delivery rate and gives users the ability to send video, audio clips, and even better Chat Heads. The split might piss off Facebook users who enjoyed multitasking (hi, us!), but TechCrunch notes there's a technical reason for it:
With 200 million users on Messenger sending 12 billion messages a day, Facebook wants to unify its efforts around the app and skip out on maintaining code for a parallel version inside its main apps.
Or you could just stick to texting.