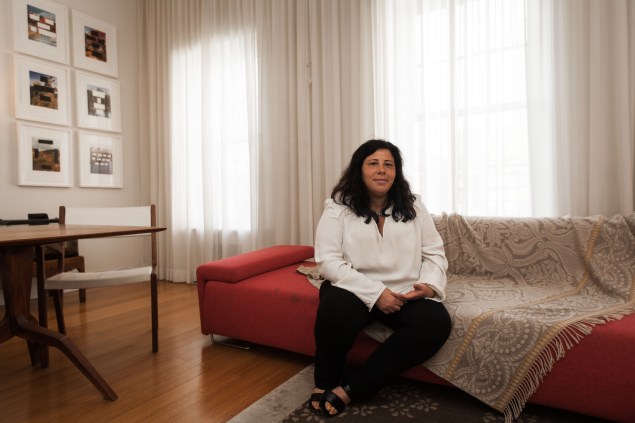 The fashion designer Alice Roi knows how to make traditional American design weird and the weird traditional. This dry-humored, witty 38-year-old New Yorker has been producing clothes since her early 20s and shares her Gramercy Park apartment with her husband, Marc Beckman, the founder and CEO of Designers Management Agency; their 6-year-old son; and a bichon frisé puppy. The mood of their spacious home is spare but colorfully decorated with striking artwork, staid furniture, odd figurines and neutral colors. "It's a nice balance of new and old, sweet and not sweet," said Ms. Roi, who is about to unveil her resort collection for 2015.
How long have you lived here? I actually grew up in this building from the age of 12 until I was 18, though I'd never seen inside this apartment until it became available for us. My husband and I moved in back in 2007, and my mom lives on the third floor.
Gramercy Park is right around the corner. Do you have a key? I do, because I'm a member of the National Arts Club. But you don't get one unless you actually live on the park. There used to be a flower-arranging competition there every year. I won first prize a bunch of times, but I don't think they do it anymore. There were amazing categories, including a miniature section where people would arrange flowers in thimbles, and a dollhouse section, which was my favorite. 
There's quite an array of artwork in your apartment, from Richard Serra to Ed Ruscha, Philip Guston and Lisa Yuskavage. I like mixing up different types of art. Guston is really round and cartoonlike, and Lisa Yuskavage is very naturalistic but with a sort of perverse twist. And then, of course, all the more traditional stuff comes in, like the candelabra—you know, the neoclassicism.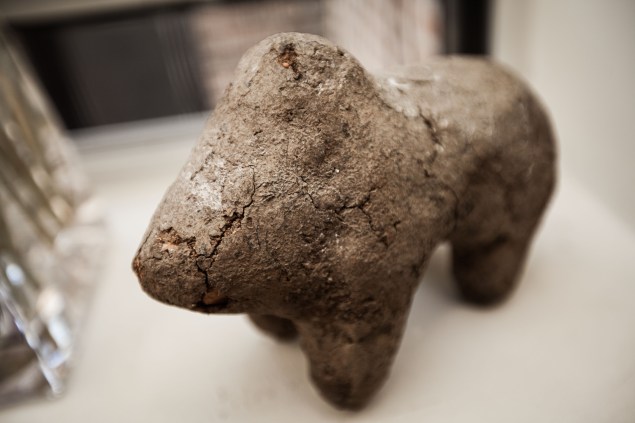 Do you have any favorite pieces? My favorite piece is by Claes Oldenburg. It's a perfume atomizer that you squeeze; you can see all the perfume dust coming out in the puff. He's depicting something that's almost invisible but that you can smell. And I like the colors a lot. The pink is icy, but the browns are really muddy.
It seems odd that you put your desk in your bedroom. It's lovely when the breeze blows and makes it feel kind of beachy in here, with the Jock Sturges photo on the wall. It makes me feel very light, like I'm on vacation.
Do you work from home? No, I'm usually at the factory, though I do design here sometimes. The factory is in the Garment District; I get my samples made there and manufacture my clothing line here in New York. 
What's been inspiring you lately? Patchwork quilts. Traditional quilts were put together with whatever fabric came to hand, which is appealing visually even if everything clashes. You wouldn't expect burnt orange with light blue flowers; they seem like unusual combinations. The shapes of the actual patches vary, too; the combinations always end up being sort of off. I look for things that make me feel an emotion because they're a little off somehow. I actually made my son's bed out of one.
Literally? Yeah, I bought a quilt in Provence and loved it, so I gave it to an upholsterer—it had ticking as a border—and he made it into a bed. I liked it because it had some irony; it looked like the inside of a mattress.
What is the most unusual thing in your apartment? We have something made of poo. It's like a cow-dung, amorphic sculpture that is supposed to resemble an animal. We got it at a flea market in Chelsea.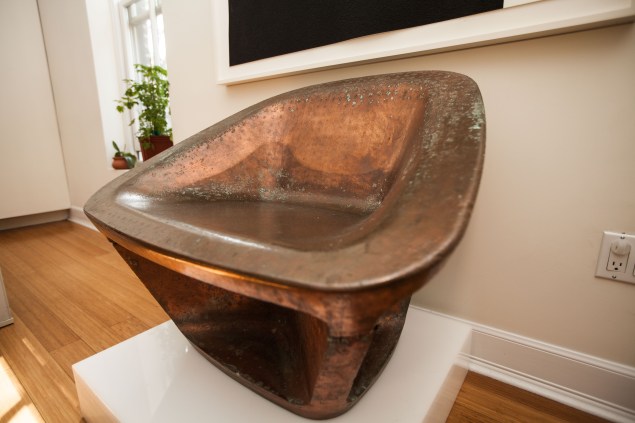 You're working on your resort 2015 collection now. Anything you'd like show us? I'm using an Amish-style quilt print, because I'm obsessed with quilts. I didn't love the way it looked on the bright purple side, so I think I'm going to use it on the other side, which is more dated and looks like a flag to me. 
What do you like most about it? The plain wreaths with florals are pretty, but I really like the Gothic-type churches and houses in the print. I think they bring home the idea of the Amish quilt. It doesn't interest me because it's sweet or pretty—more because the Gothic element is scary. It feels like it has two sides—one is very sweet and wholesome, the other has a sort of underbelly that could be creepy, a bit witchy.