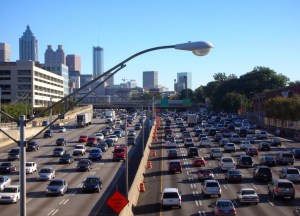 The feds this morning arrested the Assistant Division Administrator of the Federal Highway Administration (FHWA), New Jersey Division, for allegedly using a straw company to get FHWA grant funds he also oversaw as a public official, and for falsifying related federal disclosure documents, U.S. Attorney Paul J. Fishman said.
Special agents from the U.S. Department of Transportation (DOT), Office of Inspector General (OIG), and criminal investigators with the U.S. Attorney's Office for the District of New Jersey took into custody Lawrence F. Cullari Jr., 42, of Tinton Falls, at his FHWA office in West Trenton.
They charged Cullari in a criminal complaint with five counts of making false statements and one count of wire fraud.
Cullari had an initial appearance and bail hearing this afternoon before U.S. Magistrate Judge James B. Clark III, who released him on a $100,000 bond.
According to the criminal complaint filed today in Newark federal court:
Cullari has been the Assistant Division Administrator at the Federal Highway Administration's FHWA New Jersey Division since 2010. In that position, he holds the power to influence the allocation of DOT funding. Since 2006, he has also operated a private consulting and engineering company called Dencore Consulting, which was owned by his then-wife.
In about 2006, the defendant approached his then father-in-law – referred to as W.P. in the complaint – and asked to use W.P.'s company – identified as Company #1 – as a nominal or "straw" contractor to get work for Dencore Consulting from Rutgers University's Center for Advanced Infrastructure and Transportation (Rutgers CAIT), and New Jersey Institute of Technology (NJIT).
From May 2006, until at least June 2013, Cullari prepared bids and work proposals for W.P. to sign and submit to Rutgers CAIT and NJIT on behalf of Company #1, predominantly for FHWA-funded projects. When Rutgers CAIT or NJIT awarded projects to the company, Cullari arranged for the relevant engineering reports to be completed. He had W.P. sign and mail the reports to the universities on behalf of Company #1, as if the company had performed the work. W.P. then mailed invoices on behalf of the company to the schools for payment. When the universities paid, W.P. kept a small portion of the payment, usually about $300, for himself and wrote a check to Dencore Consulting for the balance.
In addition to the self-dealing scheme, Cullari filed false Confidential Financial Disclosure Reports from 2009 through 2013. He indicated on the forms that he held no outside positions and earned no outside income, though Dencore Consulting was paid more than $130,000 relating to a number of contracts with Company #1 during those years, and more than $56,000 of that income was transferred directly from Dencore Consulting's bank account into his personal bank account. Cullari was also a member of several "advisory boards" at Rutgers CAIT, including the CAIT Advisory Board, the Research Advisory Board, the Technology Transfer Advisory Board, and the Transportation Safety Resource Center Advisory Board, among others.
The maximum potential penalty for the wire fraud charge is 20 years in prison, and the maximum potential penalty for each false statements charge is five years in prison. All of the charges also each carry a maximum potential penalty of $250,000, or twice the gross gain or loss from the offense.
U.S. Attorney Fishman credited special agents of the U.S. Department of Transportation, Office of Inspector General, under the direction of Regional Special Agent in Charge Douglas Shoemaker, the New Jersey Department of Transportation, Office of Inspector General, and investigators in the U.S. Attorney's Office with the ongoing investigation.
The government is represented by Assistant U.S. Attorney Scott B. McBride, Deputy Chief of the U.S. Attorney's Office Economic Crimes Unit.