As a coda to the art season, I thought I'd take a palette-cleansing trip to the biennial Le Mans Classic to check out the races and pick up an historic racecar I purchased along the way.
Though it is certainly much smaller in scale, the vintage car market in many respects parallels the art market—there have been abrupt hyper-inflationary price escalations of late, and some of the same shenanigans. For instance, a broker tried to steal my car out from under me before I closed on the contract, a scenario not altogether different from trying to buy a Wade Guyton (another fast moving object with flames going up and down the sides). But what I find so refreshing about car enthusiasts is that, though their passion is as fervent as their art-collecting peers, they're slightly less jaded, and they're refreshingly nonchalant compared to the sometimes-pretentious art gang (well, marginally anyway). With cars, it's more art than artifice.
Things didn't get off the start line exactly as planned. So much for clearing my mental sense of taste: en route on the Eurostar to Paris, I bumped into a friend and got wind of a major dealer and rival of sorts, who was having his car raced. You can run, but…may as well try and sell something while I'm at it. I checked into the hotel in Le Mans, fittingly enough located on Boulevard Duchamp, and a similarity with Basel became immediately apparent: the hotels are crap. It was so cramped I had to sit sideways on the toilet and could hear the guest in the adjacent room belch.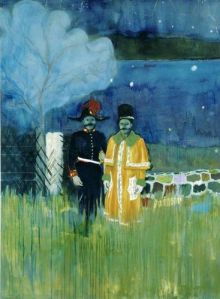 But let's back up a moment. As the art season closed out with a series of relatively ho-hum Impressionist, modern and contemporary sales in London, the fatigue and malaise were thick in the rooms, though I guess you can't call a $17 million Peter Doig entirely uneventful. Think what you can drive for that amount.
Like a dog chasing its tail at high velocity and without getting dizzy, the art market continues to clamor for more of the same at a relentless pace, and there never seems to be enough of it. Just prior to my departure, I was offered a series of artworks that I owned (which were clearly not for sale) and was regaled with yet more sordid tales arising from the great primary/secondary market divide, embodying the worst aspects of today's overheated speculative contemporary art market, which seem to bring out the crummiest traits in the personalities of the participants.
One esteemed European contemporary dealer I met with just prior to my trip was lamenting to the point of tears an incident involving a famous highly regarded collector (of the non-flipping variety, so they thought) who with a straight face and the best of intentions swore to treasure the work of an artist so hot and coveted many galleries insist you buy two with a stipulation that one is donated to a museum. Needless to say, it was all bald-faced lies and the work was popped instantly into auction (and did quite well, mind you). Prior to the sale, when the dealer got wind of the impending transaction, he offered to buy the work back at cost, only to be branded a "criminal" by the "collector" for doing so. I've got a feeling we're not in Kansas anymore.
Then there are the paintings of market-darling Christian Rosa, whose first work to appear at auction fetched nearly $170,000 at Phillips; two-hundred grand just ain't what it used to be—again, think of the cars you can get with that. The artist is said to plumb through old catalogues of Miró, isolating a few random marks here and there and repainting them on an otherwise blank, unprimed canvas. Sounds as fascinating as it looks. An unnamed friend, incensed (and amused) with the mediocrity of the work on view prior to the sale, sort of dragged his finger in the still-wet oil stick splotch and created a new twist of his own. Call it an act of civil disobedience of which Henry David Thoreau might be proud.
Back at Le Mans…I reached out to the competitor who, like me, writes, collects art and cars, and deals, to touch base and say hello, and to try to sell him something. True to form, he proceeded to criticize the quality of the painting I offered (rather than a simple, "Sorry, it's not for me"), while telling me my car would be worth more if it was actually raced rather than sitting idly as a static display in a Concours d'Elegance event I had entered it into. With my back arched, I retorted that I would wave from the track as I personally drove in a parade lap while he was having his car raced by historic drivers of the past, at which point he asked to join me for the ride. We were warming to each other.
What I find so touching about the car world is that these sometimes-priceless objects get used in anger like they were meant to be, which is akin to an old-school collector choosing to actually hang and live with their art (rather than stuffing it away in a freeport). I couldn't begrudge my friend for having his rare car thrashed around the track in the same manner it had originally been intended to do so in the 1950s. It's rare to find someone who can avoid the urge to hoard nowadays. But speaking of hoarding, a 1964 Ferrari 250 GTO, one of only 36 in existence, is coming up for auction in August, and has previously sold privately for $52 million. Look for it to make between $50 million and $100 million; it won't be long before we see a $100 million car and a $1 billion work of art
According to Scott Reyburn in the international edition of The New York Times, "… the 10 most expensive artists accounted for 73 percent of the £192.6 million aggregate total achieved at Sotheby's and Christie's evening sales." Today's art market can be summed up in 10 words or less: obvious things by obvious people to obvious people. That's the reality, and it won't change anytime soon, so one must find one's way, and a healthy diversion certainly doesn't hurt.
In the end, my car and I lost the slightly politicized beauty pageant, which resembled a dog and pony show not too dissimilar to presold, guaranteed auctions, where pieces are paraded with much fanfare, though with little competitive bidding, to establish public prices. Dejected, without the trophy I had envisioned hauling back on the train, I headed back to town with tail firmly between legs.
As a consolation, I decided to treat myself and was reminded of the old razorblade ad where the announcer says: I liked the product so much, I bought the company. But today's art world version would be, I hated the painting so much, I bought it. If you can't beat them, join them: you've got to give the people (and auction houses) more of what they want. Anyone interested in my Christian Rosa?