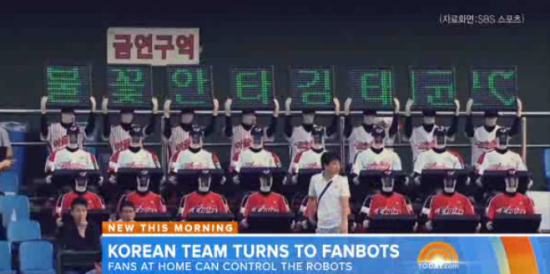 A poorly performing Korean baseball team has devised a way to brighten up what we expect is the overwhelmingly depressing atmosphere at their games.
The Hanwha Eagles have equipped their stadium with a creepy-looking cohort of robot fans, the BBC reports. The robots can't snarf down hot dogs or beer, but they can reportedly cheer and do the wave like real-live humans.
Besides making the Eagles, who've lost 400 games in the past five years, feel like the stadium's more filled than it actually is, the robots will also help increase the games' accessibility to fans. From home, fans will be able to upload images of their faces to individual robots, and control the robots' movements.
The next step: robotic, fan-controlled Bachelorette contestants. Just a thought.
[h/t TODAY]