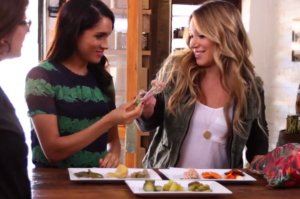 I've been trying to eat better – eat clean, all of that nonsense – and have been suppressing my desire to binge by scrolling through stranger's Instagram accounts and indulging in their glorious pictures of gluttony. Turns out trolling Instagram for pictures of cheeseburgers (shame) was actually beneficial because it led me to The Real Girl's Kitchen, a web series turned cooking show based on Haylie Duff's latest cookbook by the same name. I couldn't help myself, I had to check out this show – which at the time aired exclusively on Ora.tv – and spent the next several hours binge watching as Ms Duff recreated restaurant classics and modernized condiments. (Ever heard of dehydrated ketchup? It looks like fruit leather and prevents the burger from getting soggy. Genius.)
Ms. Duff, who wrote, photographed and tested all of the recipes herself, explained that the show was originally airing on Ora.tv but after an executive at the Cooking Channel saw a promo for the show, they switched to the bigger screen, where her show will air Saturdays at 2pm EST this summer before returning to it's original home online.
Being a New Yorker, I was drawn to the Brooklyn episode in which Haylie and a friend made pickles at
Brooklyn Brine
(adding more than a splash of whisky) with organic hot peppers she picked at the local rooftop garden
Eagle Street Gardens
. "We were all dreaming really big and really wanted to do an episode in NYC." Ms Duff explained. The Texas native splits her time between Los Angeles and New York and adds that the Ace Hotel is one of her favorite brunch spots in the city. She recreated their signature Tuna Salad with watermelon radishes and a generous helping of truffles on the show.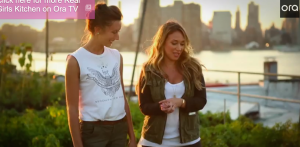 Her favorite episodes include "The Boozy Brunch" and "Mali Booyah" which features a cameo by Ms Duff's little sister, Hilary. It also spotlights a glorious concoction she calls a "Banana Boat" which involves peeling back part of the banana and stuffing the inside with marshmallows, chocolate and walnuts, wrapping the whole thing in foil, and throwing it in the camp fire until it's melted and gooey (I'm not proud to report that I was damn near drooling on myself while watching this episode).
You can catch 
The Real Girl's Kitchen
 Saturdays at 2pm EST on the 
Cooking Channel
.
[protected-iframe id="8b306068dd3889b8b60368d9c94763de-35584880-59143305″ info="//www.ora.tv/embed/0_67nb99mgkuau" width="640″ height="360″ frameborder="0″ scrolling="no" webkitallowfullscreen="" mozallowfullscreen="" allowfullscreen=""]