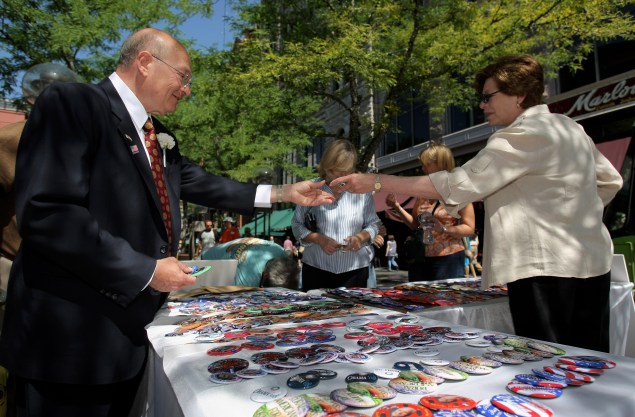 Former Congressman Gary Ackerman, who represented a chunk of eastern Queens until 2013, has endorsed John Liu's bid against State Senator Tony Avella.
Mr. Liu's campaign announced the endorsement today, less than a week after a powerful congressional Democrat threw his weight behind Mr. Avella.
"John Liu has dedicated himself to serving the people of our community," Mr. Ackerman, a Democrat, said in a statement. "His unwavering commitment to the people of New York and his relentless work ethic make him the ideal person to bring real Democratic leadership back to District 11 and Albany. And his experience and track record as Councilmember and Comptroller means the people of District 11 will finally get the real results that they deserve from their Senator."
Mr. Ackerman represented many of the neighborhoods that lie in Mr. Avella's district. His endorsement, which could lend a slight boost to Mr. Liu, a former city comptroller, doesn't necessarily come as a surprise: Mr. Ackerman's successor, Congresswoman Grace Meng, already endorsed Mr. Liu, along with the Queens Democratic Party.
Mr. Liu, however, did lose out on the backing of the other congressman that represents the area. Congressman Steve Israel, the chair of the Democratic Congressional Campaign Committee, said last week he was supporting Mr. Avella.
The battle between Mr. Liu and Mr. Avella began after Mr. Avella joined a group of breakaway Democrats that govern the senate with the Republican Party. Queens Democrats, infuriated with Mr. Avella, pushed Mr. Liu to challenge him.
But last month, Democrats including Mayor Bill de Blasio helped broker a deal with the breakaway Democrats, known as the Independent Democratic Conference, to eventually govern with the mainline Democrats after the fall elections. As an apparent condition of this deal, Mr. de Blasio and several labor unions endorsed Mr. Avella and the labor-backed Working Families Party withdrew their support for Mr. Liu.
The two contenders will face off in a Democratic primary in September.