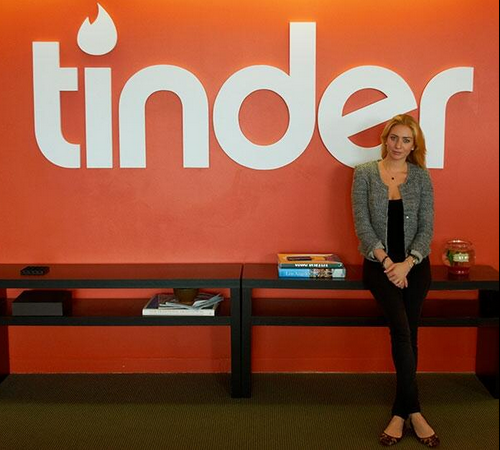 It's another banner day for the tech industry vis-a-vis gender relations.
Tinder's former VP of marketing, Whitney Wolfe, is suing the startup after having been subjected to fratty behavior (that's putting it mildly) during her time with the dating app. She filed a lawsuit yesterday with Los Angeles Superior Court alleging sexual harassment and discrimination.
Ms. Wolfe claims she was a cofounder of the app, but was stripped of the title because the company's chief marketing officer, Justin Mateen, told her that having a "24-year-old girl" as a cofounder made the company "seem like a joke," USA Today reports.
Ms. Wolfe also says Mr. Mateen called her a whore in front of CEO Sean Rad. When she complained, the suit alleges, she was forced out of the company.
Mr. Mateen also allegedly called Ms. Wolfe a "desperate loser" and told Mr. Rad she was an alcoholic, the Sydney Morning Herald reports.
Also, BuzzFeed has some screenshots of text messages purportedly between Ms. Wolfe, Mr. Mateen and Mr. Rad — and if they're real, they're pretty damning. At one point, Mr. Rad tells Ms. Wolfe, "You still are cofounder you shit … And I told you that u could make your title even in FB to cofounder [sic]." Charming. And in another group of texts, Mr. Mateen berates Ms. Wolfe for talking "to middle aged Muslim pigs that stand for nothing" on a trip to Aspen.
IAC, Tinder's parent company, has already suspended Mr. Mateen for an investigation. IAC is also named as a defendant in the suit, USA Today reports. They "condemn these messages, but believe that Ms. Wolfe's allegations with respect to Tinder and its management are unfounded," apparently swiping right on cognitive dissonance.
Mr. Mateen has expressed belief in sexist double standards before. During his campaign to convince people that Tinder is an app for finding platonic friends (LOL), he asserted that women "aren't wired" to find dates online. Tell that to the female subjects of Betabeat's story on real-life Tinder users.
But if it turns out that Ms. Wolfe's claims are true and that those cringe-inducing text messages are the real deal, Mr. Mateen might be out of the company faster than you can swipe left on a bro in a Hollister polo.