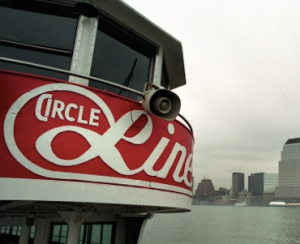 A second refurbishment is in store for the World War II troop-carrier-turned-cruise-ship, Circle Line X.
New York Cruise Lines hopes to convert the ship into a museum, honoring both its past as an amphibious assault ship and more recently, a popular tourist sightseer attraction, The New York Times reported.
Designed in 1944 as LCI-L48, a Landing Craft Infantry that delivered troops onto enemy beaches, the vessel was renamed Circle Line X and converted in 1955 to operate as a cruise ship on the Hudson River.  For 52 years, the ship transported tourists around the Manhattan Island to view the Statue of Liberty and Ellis Island up close and personal.
However, while allowing tourists to stroll through the moored ship as they learn about its past seems like a great idea on the surface, some claim it's sure to produce unnecessary waste in the Hudson River.
Marcy Benstock, Director of the Clean Air Campaign told the Observer, "Filling in the river between Piers 81 and 83 with a World War II warship is illegal under federal law due to several adverse consequences.  It would eliminate views of open water, put people in harm's way in the next big storm, cost tax payers millions of dollars and harm an irreplaceable habitat for east coast fisheries."
Jason Hackett, chief marketing officer for New York Cruise Lines and the man behind the new plans for the museum, told The New York Times that this was the first, and only, negative response to the proposed museum so far.
Recently, Circle Line X was added to the New York State Register of Historical Places for its long-term service to the tourist industry and is currently being considered for a place on the National Register of Historic Places.