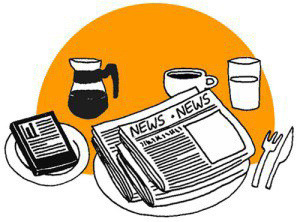 Alan Murray was named the new editor of Fortune, Time Inc. announced this morning is a press release. Mr. Murray, who will replace Andy Serwer, who is leaving the company, comes to Fortune from Pew Research Center, of which he has been president since 2012. Prior to that, he was at The Wall Street Journal in editorial roles and was CNBC's Washington Bureau Chief.
"It is with very mixed emotions that I announce I am leaving at the end of the month to become Editor of Fortune magazine. This is not a job I was looking for, or sought. But Fortune, created by Henry Luce some 85 years ago, is one of the nation's great and enduring journalistic brands. It is one of only two places I applied to work after finishing my graduate degree.  The opportunity to lead this iconic news organization into the new media world does not feel like just another job opportunity.  It feels like a calling, and it is one I find impossible to resist," Mr. Murray wrote in an email to Pew staff announcing his departure.
New York Times senior vice president for advertising Andy Wright is adding publisher of The New York Times Magazine to his title. "In this role, Mr. Wright will be responsible for the generation of all of The Magazine's advertising revenue in print and online," the Times announced in a press release this morning. The appointment comes a few months into editor Jake Silverstein's tenure and in advance of the magazine's relaunch.
The Washington Post unveiled Storyline, its new venture that taps into the policy journalism trend. But it's different because it cares "about policy as experienced by people across America," editor Jim Tankersly explained in an introductory post. Also, there are chapters rather than a chronological scroll and some other user experience bells and whistles. (The Huffington Post)
Dan Kois has been promoted from senior editor to culture editor over at Slate, brand new editor in chief Julia Turner announced on Twitter yesterday. (Fishbowl NY)
"Ben Stein begged me for racy pictures while I was pregnant" are words you never want to see together, but here they are on Page Six. At least their is no "win Ben Stein's money joke." (New York Post)
This post has been updated to include Mr. Murray's email to Pew staffers.