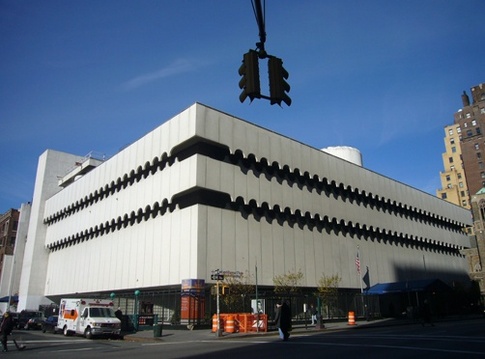 Since St. Vincent's hospital closed in 2010, Manhattan's lower West Side has been without 24/7 emergency care. (Though a number of urgent care centers eager to serve the area's affluent, well-insured patients have opened in the intervening years.) But next week, North Shore-LIJ is expected to debut a freestanding emergency center, Manhattan's first, in the 160,000-square-foot O'Toole building on Seventh Avenue between 12th and 13th Streets.
Located across from the site of the former St. Vincent's, which has been converted to a luxury condo complex by the Rudin group, the "HealthPlex," as the center is dubbed, is equipped to handle up to 45,000 patients a year, according to a release, and will operate as an extension of Lenox Hill Hospital on the Upper East Side (also a North Shore-LIJ affiliate).
In tandem with the many urgent care centers that have opened in the wake of St. Vincent's closure—Continuum has established a foothold in Chelsea and the West Village by affiliating with many of the medical practices and outpatient clinics there; The New York Times counted a dozen in 2010—the HealthPlex is something of a test case for the future of health care in the city: can urgent care centers, specialty clinics and free-standing ERs fill the void left by hospital closures? The question is particularly apt as Fortis and SUNY move to close a deal for the developer to take over LICH, a deal that will not yield a full-service hospital at the Brooklyn site.
Closure is a fate that also seems likely to befall the borough's other hospitals, a number of which have been struggling to remain solvent. Among the top priorities of the Affordable Care Act are reducing repeat visits to emergency rooms and improving preventative care while reducing costly hospitalizations, a shift that is likely to prove financially-challenging for hospitals already struggling to fill beds. (Empty beds and an ER that served many patients who did not need emergency care were two of the major factors that weakened St. Vincent's and led to its collapse.)
Besides providing urgent care, the ER is also slated to offer additional medical services as early as 2015—ambulatory surgery, outpatient rehabilitation, imaging, health and wellness services, home care and medical specialty practices. There will also be an onsite ambulance for patients who require hospitalization. The HealthPlex will open with more than 150 healthcare professionals and plans to add more as new programs launch.
Still, as a doctor told NY1 last month, without an operating room, emergency service will be somewhat limited: "If you have appendicitis, while the emergency department will stabilize you, you have to have your appendix removed, and that has to happen in an operating room… we would just send you in an ambulance to the operating room at the hospital of your choice."
It remains to be seen whether the ER's opening will assuage the concerns of community members who still believe that a hospital is needed at the site. Another challenge may be attracting patients who have become accustomed to treating their ailments at one of the many other urgent care centers nearby.
As The New York Times reported in 2010, North Shore closed an interim clinic that it had received a $9.4 million state grant to open in Chelsea, after it attracted an average of only two patients a day.
Speaking to The Times, a hospital spokeswoman attributed the closure to the clinic's limited hours—not be a concern with the 24/7 HealthPlex—"and 'the proliferation of urgent care' in the neighborhood."