The Bolshoi came—two sold-out weeks at the Koch, under the aegis of the Lincoln Center Festival—and the Bolshoi went, trailing clouds of wild approbation (from the audience, particularly the Russian portion of it) and disbelief (the critics, at the stupidity of the repertory). Will Russia ever change? Putin, the ultimate throwback, in the Kremlin, and the retrogressive Yuri Grigorovich, now 87, back at the Bolshoi with some kind of artistic influence. What kind? The mysteries and scandals of the Kremlin are nothing compared to the mysteries and scandals of the Bolshoi. Sure, we have fun here in New York speculating about Peter Martins and Kevin McKenzie, artistic directors of City Ballet and ABT, respectively, but neither of them, thank God, has been semi-blinded by an acid attack orchestrated by a disaffected dancer. The Bolshoi's gallant, handsome Sergei Filin was in the audience, with dark glasses on until the lights went down, his elegant bearing and superb hair bravely on display.
The season would have sold out no matter what ballets were on view, since the name "Bolshoi" is box-office magic in the West, and particularly since the company hasn't been seen in New York for nine years. But Grigorovich's elderly Swan Lake and his 46-year old Spartacus? At least nine years ago, the company brought us a surprise gift—the West's first chance to enjoy Alexei Ratmansky's brilliant comic ballet about a collective farm (!), The Bright Stream. It was the critical (and popular) hit of the season. Now we can see it at ABT.
Oh, that Swan Lake! The heaviness, the tedium, the narrative confusion! And the concept! In place of von Rothbart we have the Evil Genius who sets out to destroy Prince Siegfried—out of pique, I guess, since no one in Grigorovich territory has any motivation. Or maybe, since the two guys do a little synchronized dancing, they represent the Good and Evil sides of … of whom? Grigorovich himself? At the first-act birthday party for the Prince, his mother gives him, not the traditional crossbow, but a
sparkly necklace, which slips over his head, only to be removed almost immediately, never to be seen again. Why? Since no mime is allowed (no mime in a 19th-century ballet?), Mamma never tells Sonny that it's time he got married, so in the third act who are all those poor princesses being inspected and rejected? And there's The Fool, who prances around endlessly, maddeningly, livening up the scene to the detriment of whatever drama may be going on in Siegfried's mind. There is, though, a completely conventional pas de trois for the Prince and two lady friends, suggesting that unlike the hero in the ABT version, he may in fact have some interest in girls, not just birds.
And so it goes. The sets for the two white acts are sketchy, washed-out, and in the two acts danced in the castle's ballroom, splashy and distracting. The foreign princesses perform their own national dances (Hungarian, Russian, Spanish, Neapolitan, Polish): Are they putative brides or hired entertainers? And they perform them on point, thereby undercutting their nationalness—and their raison d'être. Luckily for Siegfried, Grigorovich has him leave the stage, so he doesn't have to observe what his "brides" are doing. Some court etiquette! He only comes back to turn them all down and await the arrival of the villainous Odile. In the last act, Odette dies at the hands of the Evil Genius, and Siegfried is left alone by the lake, not so much in torment as in bewilderment. Could it all have been … a dream?
Nothing could have saved this Swan Lake. First-cast was the Bolshoi's top star, that proud beauty Svetlana Zakharova, who first startled us years ago when she was with the Kirov, flaunting her endless legs and impossible extensions, one foot more or less wrapped around her neck. (She suffers from a severe case of Sylvie-Guillem disease.) Zakharova and taste are mutually exclusive, but then the Bolshoi has never been afflicted by the curse of taste. Alas, she's also empty—she just goes from one extreme effect to the next, like a series of snapshots; if her Odette expressed anything, I didn't catch what it was. And right up there with her was America's own David Hallberg, now a principal in the company, his amazing legs on a par with hers, and his fabulous jetés matching her fabulous extensions. His Bolshoi experience has not enhanced his art—he and Zakharova were like two stars graciously giving us their Siegfried and Odette, rather than a doomed man-girl-bird tragedy. Her Odile was an improvement on her Odette, since she doesn't have to pretend to have any human qualities, and she has the chops to carry off the big moments. (Actually, all her moments are big ones—including her endless, self-congratulatory curtain calls.)
Fortunately, the second-cast couple was more appealing. We know about the serious commitment and deep talent of the beautiful Olga Smirnova from her telecast Diamonds and the single Bayadère she did this season for ABT. Once again, her phrasing was imaginative and stirring. Very young and not yet a principal, she's the Bolshoi's hope for the future. Her Siegfried, Semyon Chudin, was also ardent and young—you believed in these two because they believed in Swan Lake.
***
Next up was Alexei Fadeyechev's production of Don Quixote, with its hummable, foot-tappable, and adorable Minkus score. (There are those who scorn it, and I scorn them.) Here's what happens in Don Q: skirts swirl, capes twirl, fans flutter, and there are lots of backbends and Spanishy kicks. Oh, and headlong plunges across the stage into the loved one's arms. And perilous one-handed lifts, while the ballerina unconcernedly smiles at the world from way up in the stratosphere. There's a plot, too—innkeeper's daughter and young town barber are in love, but alas he's peso-less. It's the same old story, always satisfying, and juiced up with toreadors, street dancers, flower girls, gypsies, and Don Quixote's famous windmill—yes, he and Sancho Panza are here, too, wandering in from Cervantes' great novel, to provide solemnity (the Don) and broad comedy (Sancho—his astounding contortions as he's flipped up and down on a kind of trampoline are a triumph.) The least effectively danced part of the performance was Petipa's exquisite vision scene, in which everything becomes purely classical, not a fan in sight, although Amor wields a pretty little arrow.
The company's senior ballerina, Maria Alexandrova, was the first Kitri. She has impeccable technique, formidable self-confidence and a determined smile that I found less than winning, but she nails everything, including the dreaded 32 fouettés in the dreaded "Don Quixote Pas de Deux." Vladislav Lantratov, her Basilio, was a dark, handsome fellow who matched her in star presentation. Best in show was Denis Rodkin as Espada, the toreador, whose arched back and ferocious attack were thrilling. I had a happier time with the second-night leads, Kristina Kretova and Mikhail Lobukhin, because they were youthful, natural, charming and having fun. Although I have doubts about some of the dramaturgy—the resolution of the love story takes place far too early, for instance—this Don Quixote was sheer pleasure for all concerned: the Bolshoi at its best.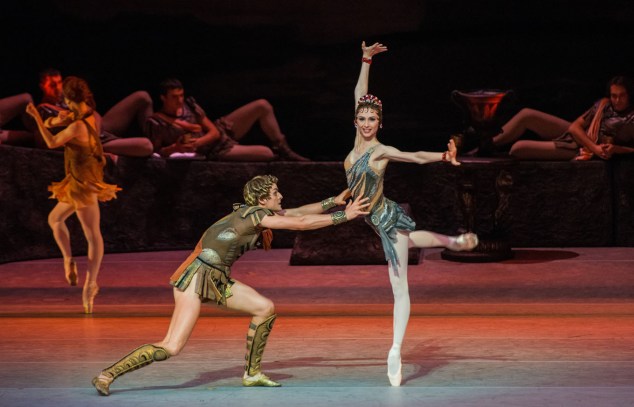 ***
And then came the worst: the ghastly Grigorovich Spartacus. First, the Khatchaturian score. Some critics dismiss it as mere movie music, but that's not fair to movie music. No, the problem is that it's terrible movie music. The Bolshoi orchestra, almost 70 strong, was the glory of the season, making our local ballet orchestras sound pitiful in comparison and giving Spartacus all it had—alas. Balanchine used to say that if you didn't like one of his ballets you could close your eyes and listen to the music, but if you tried that with Khatchaturian things just got worse—even the awfulness of the ballet was preferable to the awfulness of the music.
There's not one moment of interesting choreography in Spartacus—it's all posturing, thrashing, vamping, oy-veying, Sovieting trash. And once again Grigorovich can't tell a story—you have to read the program notes to grasp that the courtesan Aegina is not just a hootchy-cooch but has "long dreamed of seducing and gaining power over Crassus … and gain legal admittance to the world of the Roman nobility." Instead of a coherent story we get a series of spectacles—Roman soldiers goose-stepping, chained slaves, exultant rebels, orgies (all too tame), blood-lettings—punctuated by endless, repetitive and empty solos by the four principals. When Spartacus is finally impaled on Roman spears and brandished aloft, while his beloved Phrygia sways and mourns, you're in an ecstasy of joy. It's over!
Spartacus and Crassus jump and jump and jump—both sets of guys I saw were galvanizing. They also suffer. They also mouth. (Talk about silent-screen acting!) I have to give Zakharova credit: As the ambitious Aegina she's in her element, imperiously vamping (or vamping imperiously) as she pursues her crafty game. She doesn't have to display the slightest humanity, and the vulgarity of her dancing is exactly appropriate to the part. Phrygia is a thankless role—not much to choose between the lovely and more pathetic Maria Vinogradova and the lovely and more heroic Anna Nikulina.
What's most distressing is that the company is so extraordinary—and they didn't even bring all their best dancers. Their style is magnificent—the superb carriage, the intensity. The soloists, the demi-soloists, the corps: so many first-rate executants! But then the aesthetic, if you can flatter it with that label. The company has produced some ambitious new ballets recently, but they were left at home, no doubt sulking. Please, Bolshoi, jump into the modern world, jettisoning Grigorovich and all his Sovietness. Give your dancers something worth dancing. Give us something worth looking at.