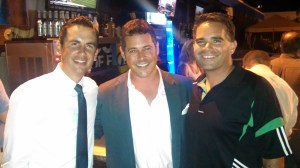 LAKE COMO – For any politician with statewide ambitions, the scene at the Monmouth County Democrats' summer barbecue blast at Bar Anticipation in Lake Como on Wednesday night was a target-rich environment.
From North Jersey, Essex County Clerk Chris Durkin, Bloomfield Mayor Mike Venezia, West Orange Mayor Rob Parisi and Jersey City Democratic Chairman Sean "Sully" Thomas were in the house.
From down the Jersey Shore, Belmar Mayor Matt Doherty, Marlboro Mayor Jon Hornik, Lake Como Mayor Mike Ryan, Lake Como Council President Brian Wilton, Asbury Park Mayor Myra Campbell and Brick Township Mayor John Ducey were in full effect.
From across New Jersey, Burlington County Democratic Chairman Joe Andl, Monmouth County Democratic Chairman Vin Gopal, Ocean County Democratic Chairman Wyatt Earp, Morris County Democratic Chairman Chip Robinson, Somerset County Democratic Chairwoman Peg Schaffer, Sussex County Democratic Chairman Mike Busche and Warren County Democratic Chairman Tom Palmieri were all there, as was Mercer County Executive Brian Hughes.
The event itself was not just about fun, but fully focused on the most prominent North Jersey politico who took the trip down the Garden State Parkway on a summer evening: Jersey City Mayor Steven Fulop, who many observers feel is already locked in the early stages of a 2017 Democratic gubernatorial primary battle with State Senate President Steve Sweeney (D-3), South Jersey's most prominent politician.
Fulop's remarks, made after short speeches by state Assemblyman Troy Singleton (D-7) and Lawrence Mayor Cathleen Lewis, to the crowd of more than 350 revelers were brief. Expressing support for Democratic Monmouth County Freeholder candidates Giuseppe Grillo and Larry Luttrell, Fulop also spoke out in support of the evening's host.
"I've literally seen [Vin Gopal] work until 1 a.m., 2 a.m., 3 a.m., countless hours working committed to progressive values," Fulop said to applause. "I am 100 percent confident that we will elect two Democratic freeholders in November, and that is because of the leadership that you have right here."
As the crowd drifted off to enjoy the open bar, Fulop took a break from a long conversation he was having with Hughes to tell PolitickerNJ.com why he rolled down to Monmouth.
"Who knows what I'm going to do, but relationships matter," Fulop said. "Regardless of what I do, the stronger the Democratic Party is, the better. If I have some ability to make the party stronger, then that's a positive. I feel that the two [Monmouth] Democratic freeholder candidates literally are at the edge, and with a little bit of a push, they're going to win. And with Asbury Park and Neptune moving their elections to November for the first time, this is part of big change that's happening here. Monmouth is becoming a force.
"Fortunately or unfortunately, depending how you look at the situation, Jersey City has migrated to Monmouth and Ocean," Fulop added. "No matter where you go around here, so many people in Monmouth are from Jersey City and Bayonne. It's good when you meet somebody and they say 'My mom grew up on Ege Avenue in Jersey City.' Again, relationships matter."