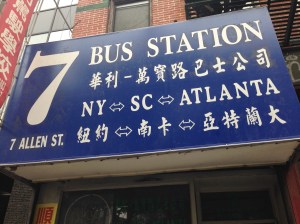 On Monday, Manhattan Elected Officials, including State Senator Daniel Squadron and Borough president Gale Brewer, released a statement in which they announced their immediate intent to crack down on unregulated curbside bus companies.  The companies, started in the late '90s by entrepreneurial residents of Chinatown, provide cheap, popular intercity bus services that are plagued with allegations of irresponsibility and lack of safety.
It was announced that the regulations would be enforced no later than August 15, in order to calm the "wild west" atmosphere created by intercity buses. "We are pleased to announce that the city agencies and local precincts are committed to working as partners with us to take the challenge," they said. "This is an important step to improving the quality of life of Chinatown and the Lower East Side residents."
Already, there have been numerous attempts to regulate the industry. Following a tragic bus crash in 2011, where a fatigued driver overturned his vehicle and 15 people were killed, 26 companies were subsequently closed.
Passengers of the bus companies, despite using them frequently, attest to their questionable safety regulations with alarming regularity. One customer, about to board a bus with Oriental Pearl, informed The Observer that the last time she had been aboard one of their buses it had crashed.
Star Line Express customer, Tory MacClean, described her journey from North Carolina, stating that the bus was five hours late, the driver fell asleep at the wheel and the police were called on two separate occasions. "It's cheap but it's not worth it," she said. "I am going to use a more regulated bus service next time. People need to be safe."
Despite the clear problems, this industry does provide transport for those who would otherwise be unable to afford it. As Julia, another disillusioned customer confirmed, "We need cheap buses, but we need them to be safe."