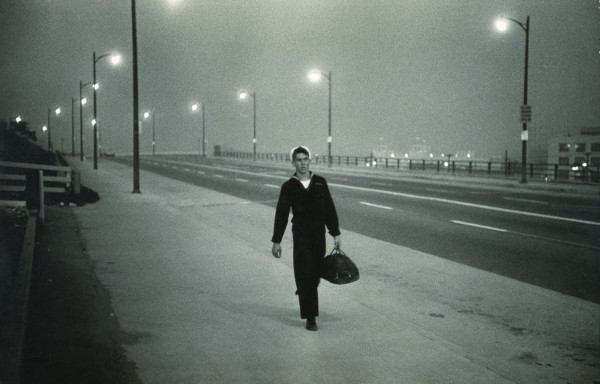 It's been 25 years since the last Garry Winogrand retrospective, and now is a great time to reflect on his polarizing photography. Through Winogrand's prints, the current divide between what might be called "abstract" and "street" photography can be brought into clearer focus. This posthumous display of new work presents Winogrand as the father of the photography taught in many MFA programs across the country—a practice in which taking a picture means capturing what happens in front of a lens.
An heir to Walker Evans and Robert Frank, and a contemporary of Diane Arbus and Lee Friedlander, Winogrand was influenced above all by the photojournalism published in popular magazines during the 1950s. Repelled by Life's sentimental niceties, his aesthetic radio was tuned to the B-list titles he shot covers for: Redbook and SportsIllustrated. Bronx-born Winogrand shot New York in the 1950s and '60s. He did a term at Columbia studying painting, and a year at City College, but he was never a photographer with one hand on a philosophy book. His idea of his role was of a man out on the street, getting the shot.
Winogrand's closely observed, close range, dense city life shoots are all angles and action. He has no taste for nature—it doesn't even register for him—but he can capture every nuance, shimmer and misstep of a fully made-up face in a nightclub at full swing. His art is tricky—it often depends on voyeuristic access to a woman's low-cut blouse, or glimpse of naked thigh—and Winogrand is unapologetically predatory about his relationship to surfaces. He grabs a gleaming brooch pin, or a flick of emotion across a public face, for his own purposes. He is the long-on-talent, short-on-values dirty uncle of street photography, a virtuoso practitioner of a morally bankrupt form.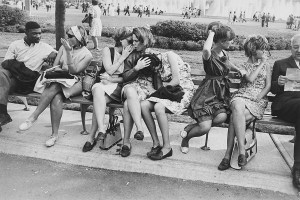 The show starts in the American economic boom of the 1950s. Women wear gloves; men sport hats. Winogrand captures the talon-like nails, gleaming white teeth and thickly drawn-on eyebrows of Manhattan's Midtown middle class at work and play. The antithesis of the sentimentality of "Family of Man"-style photography, Winogrand does nothing to sugar-coat the vulgarity of a country gilt by economic expansion, nor does he use art as a vehicle for moralistic platitudes.
A section entitled "A Student of America" shows travels to Chicago and the Southwest. It's a crass and mysterious vision of the U.S.A. There's magic in a cowboy stepping onto a curb with the light behind him, both heels seemingly floating in mid-air. But Winogrand has an eye for bottle-blonde hair in black and white, and his America is unapologetically full of bulging flesh, class struggle and ugly racial tension. He's not really rooting for anyone, or anything, except his camera. "I'm not running for mayor," he said of his role as an artist.
Starting in 1971, the final section, "Boom and Bust," sees Winogrand settled away from New York. Not much grabbed me. The photos are from Texas and Southern California, and the boxy frame of the suburban American home doesn't animate his compositions like the New York street did. The erotic tension of urban life has dissipated into suburban flab and sprawl.
The show hints at Winogrand's biography. A 1969 letter by his then-wife describes her frustrations with their relationship (she left him soon after). He eventually remarried, and started a family. Winogrand died at age 56 of cancer, very suddenly, with only a few months between diagnosis and death.
Photographer and writer Leo Rubinfien has curated what may be Winogrand's defining show, along with SFMOMA's Erin O'Toole and the National Gallery of Art's Sarah Greenough. The Met's Jeff Rosenheim has handled this presentation. Of the nearly 200 photos on view, about one-third are prints of previously unseen images. Winogrand never even saw some of these shots—he died before developing the film.
The show's choice to present such a substantial display of previously unseen images poses a serious question: Can an artist's posthumous archive have the same status as the work presented during his or her lifetime? Certainly similar curatorial moves have saved or resurrected some photographers—Nadar, for example. That Winogrand's undeveloped negatives should be presented like this is a risk taken with the force of a scholarly powerhouse behind it, but in the end, it's Winogrand's cheerful disavowal of art and perfection in photography that prevails. "There's no one selection [of photos] that's going to be fatal, or gonna send me heaven-bound, one way or another. It's not all that serious. I don't deal with it that way—I never have," he says in a 1971 video on view. He died in Tijuana, Mexico, in 1984.
Just a few blocks away, a quirky show at Hauser & Wirth's Upper East Side gallery, "The Photographic Object, 1970" reconstitutes and largely recreates the exhibition"Photography Into Sculpture," which Peter Bunnell curated at MoMA in 1970. It's a historical look at experimental photography.
Playful photo-sculptures with unusual materials like light bulbs, vacuum-formed plastic and Plexiglas make up the show. All the works incorporate photography, or some form of the medium: negatives, film strips and photos glued to wood abound.
Robert Heinecken's Figure Cube (1965), gelatin silver prints on wood, looks good here, and Ellen Brooks' Untitled Lawn Couple (1970), silver print on photo linen on astroturf, made when the artist was only 24, steals the show. The life-sized work suggests a naked couple sprawling on the grass.
Richard Jackson's Negative Numbers (1970), places film negatives against light bulbs, while Andre Haluska's subtly translucent, Cornell-box-like constructions of film and Plexi are wonderful to see. Not all the work is great, or even good, but this show is an unparalleled chance to see a generation of photography influenced by conceptual art and Fluxus practices. Organized by Olivier Renaud-Clément, the exhibition speaks to a current revival of interest in experimental photography. "Fixed Variable," a show at the gallery's downtown space showcases younger photographers influenced by this work, while an exhibition at Andrea Rosen, also organized by Mr. Renaud-Clément, takes up similar themes with "Back Grounds: Impressions Photographiques (2)." Winogrand would have hated this stuff, but right now in New York you have the opportunity to see a huge amount of historical photography from the 1970s and decide for yourself.
(Winogrand, through September 21; 'The Photographic Object, 1970' through July 25)