In a video interview with Swiss newspaper Tanges-Anzeiger (h/t Uproxx), A Song of Ice and Fire author George RR Martin mustered up every ounce of the badassery he stores in his beard and gave good old fashioned "fuck you" to people who speculate on him finishing the series before he croaks.
Click here for the full interview, or here for Martin's new, official theme song.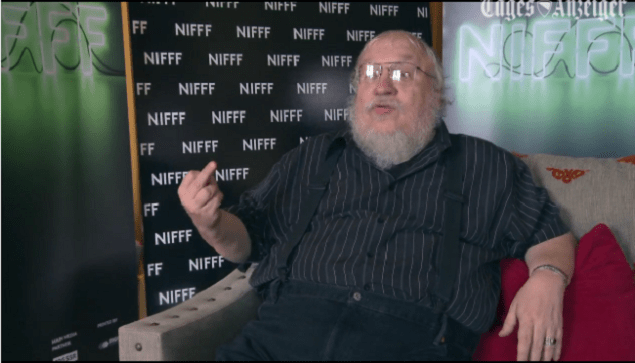 Now, look, I'm not one to speculate on someone's death. One, it's insensitive. Two, the man behind about 90% of my emotional moments in the past four years obviously has a lot of pent up rage, and could/would kick my ass without his pants even sagging. Look at those damn suspenders.
But, like, come on.
Mr. Martin also says that he only writes at home, and not when he travels for press or leisure. He said this while giving an interview with fucking Swiss newspaper Tanges-Anzeiger. I'm not going to speculate that George RR Martin won't finish because he's dead. I will speculate that George RR Martin could live to be 1,000 and he still wouldn't finish because he writes at the same pace Bran Stark runs.
Meanwhile, HBO's Game of Thrones is rapidly catching up to the books. It is known that showrunners David Benioff and Dan Weiss know the "broad strokes" of how the entire Ice and Fire saga plays out, and they have said they have a contingency plan in case (Seven gods forbid) something should happen to Mr. Martin.
But, like, is that a good thing? That's the same J.K Rowling saying she is unable to finish the Harry Potter books, but don't worry because the guy that directed Gravity knows the "broad strokes." On one hand it's "whoa, Gravity, sweet" but on the other it's like "but the guy that directed Gravity didn't write the first six books I've been reading for the past 15 years."
Sorry, sorry, that is enough speculation. Based on the picture above, any more and my next interaction with Mr. Martin would look something like this…