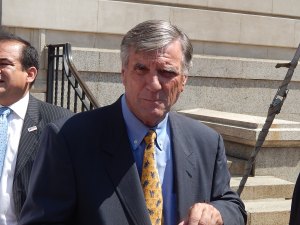 PATERSON – In a brace of Republican brand names, including former Mayor Pat Kramer, County COP Chair John Traier and Assemblyman Scott Rumana (R-40), Ocean County GOP Chairman George Gilmore gave off a Jose "Joey" Torres inner sanctum gleam as he made his way to his seat.
"It's time for a revitalization of our cities, and Joey's the guy to do it," Gilmore told PolitickerNJ.
A short time afterwards, protesters brandishing signs and corraled at the edges of the outdoor ceremony, screamed in unison, "Christie's gotta go! Christie's gotta go! Christie's gotta go!"
Police on horseback ran them off.
They returned moments later.
People in attendance at the ceremony itself respected the governor, and showed appreciation for his presence.