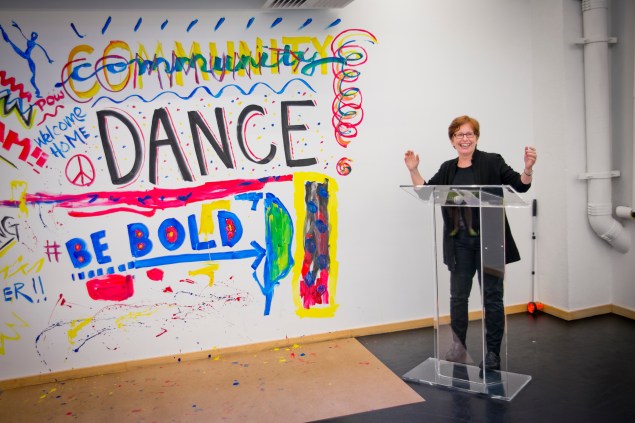 On the night of May 14, a small group of dancers were smoking outside a fundraiser in downtown Manhattan. As they discussed the work of various underappreciated choreographers, attention was suddenly turned to a short redheaded woman who had just exited the event and was walking away. "That's Gina Gibney?" asked Connor Voss, a startled young dancer. Yes, the group confirmed, it was. Mr. Voss watched Ms. Gibney round the street corner. "Fund me, please?" he said in her direction.
Mr. Voss is not the only one asking: Ms. Gibney is currently one of contemporary dance's most powerful figures in New York. The center of her new influence is 280 Broadway, a two-story building just north of City Hall on which she signed a lease in January. Ms. Gibney now has 17 studios, three theaters, and 51,000 square feet under her control. This past year she received millions of dollars in donations to help her run it all. The Connor Vosses of the city turn their heads when she walks by.
| | |
| --- | --- |
| Beloved spaces like Joyce SoHo and the Trisha Brown dance facility have closed; many others have had to move or shrink. Since the early '90s, Ms. Gibney estimates, the death toll around Union Square alone includes 20 venues where she once performed. | |
And yet just a few years ago Ms. Gibney was still managing the same single dance studio she had first leased with three friends in 1991. For nearly two decades she was another New York choreographer—the sort of artist only talked about by dancers smoking outside fundraisers. That night in May the fundraiser was for her own company, Gibney Dance. "I don't really know how it happened," she said of the new expansion to 280. "This is the biggest risk I have ever taken in my life."
 Ms. Gibney's sense of risk, however, is not borne simply of inexperience; it comes from a malaise felt throughout the city's contemporary dance world, which has watched the artform's audience and financial support dwindle over recent decades. Beloved spaces like Joyce SoHo and the Trisha Brown dance facility have closed; many others have had to move or shrink. Since the early '90s, Ms. Gibney estimates, the death toll around Union Square alone includes 20 venues where she once performed.
It's never been easy to make a living as a dancer in New York, but it may never have been as hard as it is now: new dance festivals such as WestFest and Reverb charge artists upwards of $250, and in some cases more than $500, for the privilege of showing their work, and a single day of rehearsal at venues citywide can cost more than $100. Such financial obstacles divert artists' attention from finding an audience. And without an audience, artists must continue to pay.
Ms. Gibney has a singular opportunity to cultivate a new generation of audience members and artists. "Dance has just been in a downward spiral," she says. "I can't change that, but I do want to create a space … where things get better." A modest proposal, but the response to Ms. Gibney's new center will nonetheless foretell contemporary dance's chance for survival.
*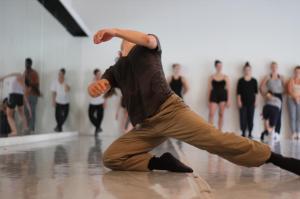 Contemporary dance—a catchall that refers to much new choreography since the mid-20th century—has failed to take hold once before at 280 Broadway. In 2006, Dance New Amsterdam (DNA) relocated to the space amid great fanfare. At the ribbon-cutting, Cultural Affairs Commissioner Kate Levin proclaimed: "This project is extraordinarily meaningful to the neighborhood, to the dance community, and to New York City's entire creative sector."
The city's dancers quickly made the space a home. "It was kind of like the Cheers Bar of the dance world," said Tara Sheena, a 25-year-old dancer who used to take a class at DNA two to four times a week.
DNA had a lot to offer: jobs for teachers, theaters for performers, cheap rental space for choreographers. For dancers with second and third jobs, who lug speakers, dancewear, and props around the city, DNA also provided comfort. "The small psychic feedback of going to get a free Tootsie Roll when you take a dance class is really big sometimes," said Ms. Sheena.
| | |
| --- | --- |
| --- | Ms. Gibney was reaching beyond the confines of contemporary dance, taking risks that scared away others in her world, and it was working.  |
Founded in 1984, DNA began struggling with rising rent in Greenwich Village in the '90s and made plans to move to 280 Broadway. They were delayed again and again by construction problems related to September 11. By the time DNA the organization arrived at 280 in 2006, it had acquired a painful debt load. In early 2013 the organization declared bankruptcy for the second time, and soon it folded for good.
Many dancers describe DNA as insular, and  even "stubbornly obscure." Others, such as Benny Simon, a longtime teacher at DNA and later a member of its board, say simply, "It was very much not a commercial dance sort of place."Walking around the vacant, drafty lobby of 280 Broadway, Ms. Gibney noticed a certain carelessness. "It was freezing down here, we had to fix our HVAC," she said. "It was such a waste of space." Where the DNA lobby was empty, Ms. Gibney plans to add a digital media lab, a new dance studio and windows that will let passersby see the work being done inside.
Even its detractors cherished the size and influence of DNA, however, and its loss was widely felt. The city, which had invested more than $2 million in converting 280 Broadway to a dance center, was given a few months to find a new cultural tenant before the building's landlord would have the right to make the space commercial. 
Ms. Levin's office reached out to Ms. Gibney.
"I said yes almost immediately," said Ms. Gibney. "How could we let that space disappear? I have seen too many spaces disappear." Her takeover of 280 coincided with a sweep of large donations, including $3 million from the Agnes Varis Trust.
The crossroads of culture and power is quite new territory for Ms. Gibney. She is from Ontario, Ohio, a farm town whose current population is just over 6,000. After a childhood of ballet and tap, Ms. Gibney started dancing again on a whim in college. Soon she was in Seattle, where she became a freelance dancer for acclaimed choreographer Mark Morris. 
Eventually Ms. Gibney eventually started choreographing work of her own. In 1991, having recently moved to New York and recruited a few dancers, she split the lease of a single studio at 890 Broadway with three dance instructors. They made, making barely enough to pay rent, but after a few years managed to add a small office space. In 2000, Ms. Gibney began organizing dance classes at domestic violence shelters, a program she continues today. Years went by with only a few changes.
Then, beginning in 2009, Ms. Gibney found herself losing money: charitable giving diminished due to the recession, and one of the teachers left her studio. Around this time, NYU ended its lease on two studios adjacent to Ms. Gibney's that  the university had been using for theater classes.
One day she took a look at the studios and realized they'd be perfect for dance. "It's a really durable, rugged [space]," Ms. Gibney thought at the time. "It has a cinderblock wall. It's a perfect square. It's a little small…you don't have a lot of distance on what you're doing, but it's a really great space to create in because you feel very protected and private."
Her landlord, the contemporary ballet choreographer Eliot Feld, couldn't find any offers. Ms. Gibney tried to recruit someone in the dance world without success. "Nobody seemed able to act quickly enough," Ms. Gibney says. She began talking about renting the space herself. "It was a big risk, we just had this horrible year, but one thing led to another and the next thing you know we're doing it."
Soon the rest of her floor opened up. Ms. Gibney's first studio was 3,000 square feet; her new studios were 2,000 square feet; she was now thinking about adding 9,000 more. "It was raw manufacturing space," says Ms. Gibney. But it was also an opportunity she couldn't pass up. 
The renovation of her new space proceeded step-by-step. "After we would put a wall up, someone would come in and rehearse. And then we'd get more cash together; after that, we would start in on the floor and sand the floor." 
Unlike other dance centers—including DNA—Gibney worked hard at renting its space to commercial performers. The Tony Awards signed up for a studio. Then came the Broadway shows themselves: Nice Work If You Can Get It, Cinderella, and Lucky Guy, which starred Tom Hanks. Ms. Gibney was reaching beyond the confines of contemporary dance, taking risks that scared away others in her world, and it was working.
*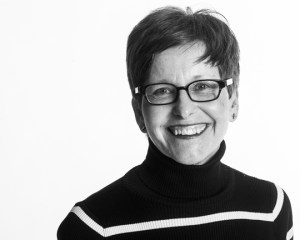 At 36,000 square feet, 280 Broadwayis more than twice the size of Gibney Dance's floor at 890. It has multiple theaters and nine studios, and one dance organization has already folded in the attempt to run it all. The tenuousness of dance organizations, the grand size of 280, Ms. Gibney's past successes, the expectations surrounding her expansion—all have conspired to make her a minor celebrity.
Giving a tour on a recent Saturday, Ms. Gibney was questioned, complimented and ogled from all corners. "Are you Dibney?" asked one woman in a tone of wonder. Everyone was talking, she continued. "I said, '$3 million dollars? Who is this woman?'" Ms. Gibney did not correct the mispronunciation and replied modestly that it was all due to good timing.
"No, you're smart," the stranger said.
An acquaintance walked by. "You look younger every time I see you!" she said. "I love your hairstyle." Ms. Gibney is unaccustomed to the attention. "I've been angry more times in the last two months than I have been in my whole life," she says. Thus the mild-mannered Midwesterner adjusts to the role of New York power broker.
Walking around 280 Broadway, the space seems of a piece with Ms. Gibney's affability. A half-dozen brownies sat in crumpled tinfoil on a public coffee table. Visitors step carefully between the crisscrossed limbs of casually stretching dancers. 
Ms. Gibney's plans for 280 also reflect her magnanimity. One telling new venture is a regular class that will be coordinated by The Playground, a group run by up-and-coming dancers Loni Landon and Greg Dolbashian. Ms. Landon and Mr. Dolbashian began organizing classes directed particularly at young professional dancers in 2010. Nothing like this existed, and the response has been huge: dancers often have to show up an hour and a half early to secure a spot in a Playground class. Ms. Gibney is giving The Playground free space for their workshops and offering to help pay for their teachers. Now the organization can expand, and their classes will grow longer and more frequent.
With the immense challenges she faces and the unquestionable loyalty she projects, Ms. Gibney is something of a union boss tending to embattled constituents. She played this role most clearly in a series of 12 so-called "community forums," held from January to March, where she invited all members of the dance community to tell her how to spend her money and use her space. There was lamenting, venting, rallying, reflecting, and, in a few cases, begging. If Ms. Gibney learned from the meetings more precisely what the dance community needs, she may also have learned that this is not always the same thing as what dancers want.
The conversation turned, at one point, to contemporary dance's audience. "How are we going to build a new audience?" Ms. Gibney asked. "It's not enough to say what artists need in a performance venue—you also have to ask what audiences need." Indeed, the lack of a devoted audience lurks behind DNA's collapse and the field's general insecurity.
For the most part, the dancers at Ms. Gibney's community forum weren't interested in discussing this. "I heard there would be some sort of resource center, and that was the most exciting thing to me," said Alex, a young dancer in attendance. "I didn't get a sense of what the offerings are … Will these things be free?" Someone else in the audience, prompted by a discussion of the proposed digital media lab, innocently mentioned that her fiancé ran a tech company: "There could be a partnership, definitely." 
The lack of response to Ms. Gibney's question, whether due to apathy or resignation, did seem a little deadly. A battle between the unyielding forces of the market on one side, and pure artistic integrity on the other, would not end well for contemporary dance.