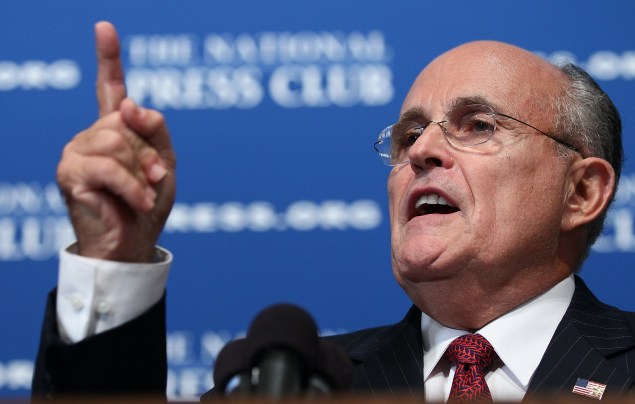 Former Mayor Rudy Giuliani blasted Mayor Bill de Blasio over the airwaves for keeping his plans to visit Italy with his family on track with a Long Island Rail Road strike just days away.
Mr. de Blasio is due to depart for the Mediterranean nation on Friday, just 48 hours before unionized LIRR workers are scheduled to walk off the job over a contract dispute with the MTA–stranding thousands of commuters. Mr. Giuliani, however, argued that Mr. de Blasio must bring his vacation plans to a screeching halt to keep the city from going off the rails.
"You start shutting people out of New York City, New York City starts to lose money," Mr. Giuliani, a Republican, said on the Geraldo Rivera show. "This is how a mayor has to think, not about going on vacation."
Mr. Giuliani pointed out that, on his own trips to Israel and the Dominican Republic as mayor, he was never gone for more than two days and had a plane ready at a moment's notice to whisk him back to New York City. He argued the same was true for ex-Mayor Michael Bloomberg
"The mayor has got to be present when an emergency takes place. You have to be here," said Mr. Giuliani, adding that the current mayor should be working on strategies to accommodate inconvenienced commuters. "If it were me, if I was Mayor de Blasio looking at this coming up, I would be sitting down the last couple of weeks with my staff and looking at the models, what's happened during past strikes."
Mr. Giuliani also attacked the very notion of allowing the LIRR employees to leave their posts as a bargaining maneuver.
"I don't think government workers have the right to strike," the former mayor said. "When you take an oath of office to serve the public, you give away the right to strike."
Mr. de Blasio, a Democrat, did not immediately respond to requests for comment.