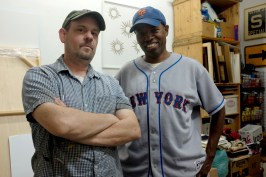 Graffiti was once something that happened solely in the margins of a city: under bridges, on the metal expanses of train cars, in bathroom stalls, in dark alleyways. Graffiti artists were sooner called vandals than artists and their identities were secretive, their tags serving as their only representation of self.
On July 10, artists Cey Adams and Greg Lamarche talked about where they've come from and where they're going at a panel called Graffiti (R)Evolution hosted by the Museum of the City of New York and moderated by artist David "Chino" Villorente. Mr. Adam's work is currently on display alongside artists like Keith Haring, LADY PINK and FUTURA 2000 at MCNY's City as Canvas exhibit, which has been extended to September 21.
Both getting their start as graffiti writers in the '70s and '80s, the two have gone on to design labels, logos, clothing and signs, taking their work from the street to the gallery and back. However, now they're not afraid of getting caught.
For Mr. Lamarche, best known for his collages, it all started at the schoolyard.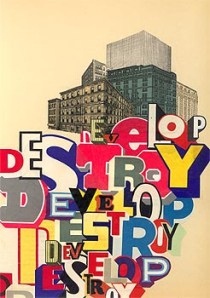 "Growing up in Queens, everything was centered around the schoolyard. I used to pick up wrappers and that's how my collages started," he said.
His first collage included a train ticket, a label from a local paint store, a bag that had previously contained angel dust—once "graffiti writers' drug of choice," Mr. Lamarche joked. It was an autobiographical portrait as well as a universal one for anyone living in Forest Hills, Queens at the time.
"Everyone wrote back then. Not everyone had tags, but everyone was writing on the walls. It was about when and where I grew up," said Mr. Lamarche. "I didn't have the chance not to write graffiti."
Mr. Adams too found graffiti art nearly inescapable growing up in Jamaica, Queens.
"I remember walking with my parents in the '70s and I would just look up and see this stuff everywhere and I thought, 'Man, I can't even get away from my parents and [these guys are] everywhere.'" he said.
Mr. Adams continued, " It just hit me—I don't know how or why, but it just wouldn't leave me alone."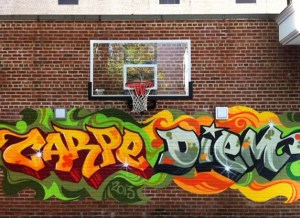 When Mr. Adams was about 20, he caught someone taking photos of his work. The photographer turned out to be working for Run-D.M.C. At the time, Mr. Adams didn't know who Russel Simmons was, but soon enough he found himself in his office and with what would be his first graphic design job—but without the likes of Photoshop or InDesign.
"I was designing flyers and postcards with a ruler, a T square, and a sharpie. That was my design kit," said Mr. Adams.
In years to come, Mr. Adams would design for the Beastie Boys, LL Cool J, Jay-Z, Notorious B.I.G. and other music giants.
"It was a turning point in my life," he said. "It wasn't until I turned 'professional'  that it all came full circle. My parents finally understood that what I was doing had value."
While Mr. Lamarche and Mr. Adams had covered a lot of ground with their work, there was still some uncharted territory left to claim: the gallery.
"The first time I showed in a gallery setting was in 1995. I hung up some of my collages and someone asked how much they were and I said I didn't want to sell them," recounted Mr. Lamarche.
Mr. Adams described painting on a canvas and exhibiting his work as a "revolutionary concept" to him at the time. "I just kept my stuff hung up on my wall. When I saw an article in the paper about galleries looking for graffiti writers, a light bulb went off. So I took my stuff to a gallery and that's how it started," he said.
The two have been moving forward ever since. But even so, a lot of their work can be about going back to square one.
Mr. Lamarche presented his first attempt at graffiti writing from '81: the initials "SP" written in pencil on a sheet of loose-leaf paper. "I haven't written it as well since. I'm working back toward this piece," he said.
Looking back at how graffiti art has infiltrated popular culture, Mr. Adams said, "We did all of these crazy things in the name of expressing ourselves so you don't have to. We were trying to express ourselves and let people know we are here. They can do that from their bedroom now."
He finished, "We certainly paved the way for anyone who's ever had a spray can in their hand."