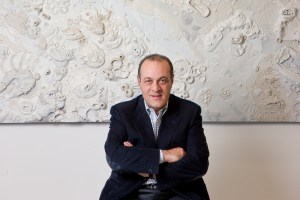 Dimitris Daskalopoulos, the Greek entrepreneur, mega-collector and benefactor of art institutions the world over, will receive the Leo Award, an annual honor presented by Independent Curators International, Gallerist has learned. The award, which is named after the dealer Leo Castelli, will be presented to Mr. Daskalopoulos at a gala dinner and auction in New York this fall.
Before vaulting into the highest echelons of several world class institutions—the Board of Trustees of the Solomon R. Guggenheim Foundation, the Leadership Council of the New Museum, the Tate International Council, among others—Mr. Daskalopoulos built his family's modest dairy company into Viviartia, the greek foodstuffs behemoth. An accruing fortune and a keen interest in contemporary art led to the creation and expansion of the D.Daskalopoulos Collection, founded in 1994. The collection now comprises over 500 works by 170 artists, including Matthew Barney, Louise Bourgeois, Damien Hirst, Mike Kelley, Paul McCarthy, and Kiki Smith.
He sold his stake in Viviartia in 2007 (for about $560 million) and since then has devoted himself more or less full-time to the art world. He endowed the post of the Daskalopoulos Curator, International Art at the Tate Modern in 2010, and in 2013 launched NEON, a non-profit that supports exhibitions, grants, scholarships and intra-institutional partnerships around the globe.
In 2010, the Guggenheim Museum Bilbao came under fire for announcing a show consisting of of 60 works from the D.Daskalopoulos Collection, with critics claiming that a board member had too much curatorial control over programming, allowing his works to increase in value do to a high-profile exhibition. The museum countered by insisting that no works shown in the show, "The Luminous Interval," could be sold for three years.
The collector seemed unfazed by the uproar.
"I'm sure there are questionable practices. But if I was to make a list of them, this would be at the very bottom of it, if at all," Mr. Daskalopoulos told The New York Times. "Everything here is transparent. Everyone knows this is a trustee exhibition."
Previous winners of the Leo Award include Miuccia Prada, Dasha Zhukova and Roy and Dorothy Lichtenstein.