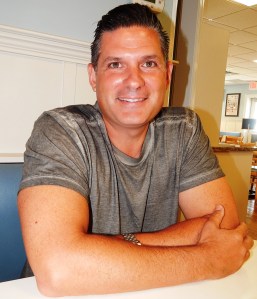 OCEAN CITY – Assembly Majority Leader Lou Greenwald (D-6) finds himself now among five powerful statewide figures as his party endures those typical manimal-like contortions ahead of the next gubernatorial race.
He easily uses terms like "co-equal branch of government" to justify – and celebrate – his legislative standing, but can't entirely suppress an executive glint in his eye when the subject turns to governor.
Still, there's a reason why he must suppress it.
Part of the South Jersey juggernaut that falls in behind Senate President Steve Sweeney (D-3), Greenwald can't run unless Sweeney stands down. And right now there is no sign that Sweeney intends to do anything other than run as the Democratic successor to Gov. Chris Christie.
Accepting the impossibility of two South Jersey brand names running for governor at the same time, Sweeney's ambition for the moment puts Greenwald in assembly majority leader mode.
"So far it's going very well," he said of fundraising toward maintaining the Democrats' majority in the assembly, sitting down with PolitickerNJ last week at Uncle Bill's Pancake House. "We've outpaced previous years and we have a strong level of support."
One, two and 38 are the battleground districts, as he sees it.
Last year, Democrats lost a man in 1 but picked one up in 2.
"There are opportunities for gains in districts," Greenwald said. "I don't negotiate in public but I don't think anyone saw us coming in District 2."
That's where Democrat Vince Mazzeo upended GOP incumbent John Amodeo.
Now the last-standing Republican legislator in LD 2, Assemblyman Chris Brown (R-2) is trying to define himself as a middle-class champion in the face of the Showboat closure and other belly-up AC optics, including the shutdown of the Trump Casino and Revel bankruptcy.
By the looks of last time, Brown could find himself in Greenwald's 2015 sights.
Dems also want to try to bump off Assemblyman Sam Fiocchi (R-1), who last year deposed of Democrat Nelson Albano.
Greenwald says he finds it deplorable that his Republican colleagues have exercised no independence from the nationally ravenous Christie.
Sources say Sweeney and his fellow statewide hopeful Jersey City Mayor Steve Fulop are operating on the assumption that Christie will leave New Jersey sooner rather than later to pursue a full-time gubernatorial bid ahead of 2016.
Greenwald says he's overall unimpressed with Christie.
"He has tremendous skills that could benefit the country but his temperament trumps his skills," Greenwald said of the sitting governor.
Christie's temperament, in Greenwald's view, is all wrong, part of a populist, angry man shtick that the majority leader argues is unhelpful.
However, Christie's shtick, as Greenwald calls it, hasn't prevented him from partnering with South Jersey on key fronts, including higher education overhaul.
Is there South Jersey fatigue in his party? PolitickerNJ asked the majority leader.
Greenwald doesn't think so, he said.
"Politics is a numbers game," he said. "We bring 12 out of 48 or 25% of the caucus. With that type of weight comes respect and responsibility. As long as we continue to carry these numbers we'll continue to carry that weight and responsibility.
"The public policy we advocate for is not regional in nature," added Greenwald, a champion of the so-called millionaires' tax and for imposing tighter strictures on gun magazines. "We are building alliances with people we respect."
He cited his political relationships with Assembly Speaker Vinny Prieto (D-32) and LD38 Bergen County battleground assemblymen Tim Eustace and Joe Lagana, and noted his help arranging meetings between Assemblyman Ralph Caputo (D-28), chair of the Gaming Committee, and Atlantic City Mayor Don Guardian.
"Atlantic City's future success is tied to New Jersey's overall success," Greenwald said.