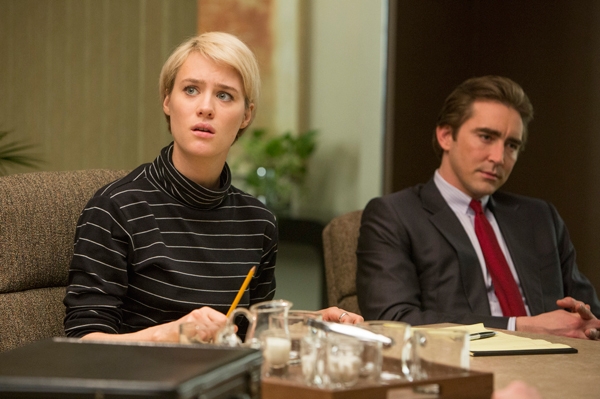 Halt and Catch Fire has finally settled into the show we've all waited eagerly for. Through the pain, lies and manipulation that have left viewers wondering why they should even care about the characters in a show that became more about personal demons than the promise of innovation and technological progress we were promised early on. Spirit and pride take hold of our main characters as Cardiff Electric gets stormed by Federal Agents and is shut down pending an investigation.  Desperately trying to complete the portable PC clone, Bosworth and Howe have illegally hacked into Cardiff's bank and "moved around" some money to allow them to complete the project and present it at COMDEX.
Clarke's excitement for the Computer Dealer's Exhibition brings him back to the days of the Symphonic, his first attempt at building and selling a computer. Failing upon demonstration, Clarke is determined to not let his past failure repeat itself and goes on and on about his experience with what was known in tech circles as "geek week".  His hopes are dashed as he learns that MacMillan has no intention of letting him attend the event. Who can blame him? Gordon Clarke has done nothing but self-destruct under pressure and has only created more obstacles during the concept stages.
Joe MacMillan mostly takes a back seat to the chaos this week as he seems to be caught off guard by what is unfolding. For once, he is the deer in headlights as Howe and Clarke cut corners and go to extremes to salvage their collective vision. Howe immediately admits to working with Bosworth in embezzling money from Cardiff Electric and obviously doing the dirty work, as Bosworth has no hacking skills whatsoever. From the past few episodes we've known that Howe has had daddy issues stemming from the loss of her father in Vietnam. This theme manifests itself in her relationship with Bosworth as he plans to fall on the sword for her in the investigation. After repeating jargon he learned from Howe to show that he will stand to be implicated in the hacking charges, Bosworth embraces Howe not as a worker but like a daughter.
Throughout the series so far Howe has been the bridge between this era and our time. Her ideas of inter-connected computers over one network, photo-realistic graphics and even a working theory of a reactive subconscious has given the common viewer something relatable and understandable. This being said, Howe's function as a character comes full circle when her hack of the bank is revealed. Cyber security, intrusions into financial institutions and wire-fraud are all modern issues that those in the field of security and software engineering deal with on a regular bases. While the show explains the duo of Bosworth and Howe hacking to save their own company by "borrowing" it's own money, the presence of the FBI reflects the seriousness of these crimes and the possibility of another legal crisis for Cardiff.
It's strange seeing Gordon Clarke so put together and well kept. We see him early on listening to hokey meditation tapes, which don't seem to working, but hey at least he's trying! During the raid we see a calm and collected Clarke slip away into the room where the completed portable pc clone, the Giant, is being held. Knowing that it will be taken away as evidence, Clarke quickly disassembles its case and parts, making it unrecognizable as a working computer to the Feds. Breaking the law out of desperation is nothing new for Clarke, but at least this time he isn't drunk or trying to save his family.  Eventually surprising even the usually quick-on-his feet MacMillan, Clarke saves the completed prototype and devises a plan to still attend COMDEX.
Joining them will be Donna Clarke, whose tumble in the last few episodes seem to take on greater meaning as we learn intimate details about her and Gordon's early relationship. Financial sacrifices were made in the development of their previous project, but the romance was preserved as a small but significant romantic gestures was made between the two. Clarke's planned engagement ring to Donna was a customized decoder ring, one that she found hidden in their garage and pawned to buy him an Altair computer.
Mrs. Clarke was originally the most likable and sympathetic character on the show, but fell off during her almost-affair with her now-leaving boss at Texas Instruments. We are lead to believe throughout the episode that Donna might in fact leave Clarke after the disturbing scene of him digging himself into a hole in their backyard, looking for an imaginary Giant while his daughters are left dirty in the ruins of their home.  It seems that the 'Giant' Gordon was digging for has finally been found and has possibly normalized his behavior.  While I am pleased to see the leads on this show finally having some rapport and working together, my main interest still lies in seeing where Donna goes. Now with her boss gone will she finally join Cardiff? Or is she too savvy to board what seems to be a sinking ship?
With all the responsibilities of lying, manipulation and law breaking taken on by Howe and Clarke there wasn't much left for Joe Macmillan to accomplish. We've seen his attitude and tenacity simmer down over the past few episodes but watching him crawl back to his father at IBM was something I wasn't expecting. Learning that 'big blue' now has their own portable pc in development, Macmillan entertains the idea of returning to IBM on the condition he lead that specific project. Macmillan wanting to leave Cardiff's PC project after it's completion makes no sense considering what he's put himself through to get this far until you realize that for Joe MacMillan, Cardiff is just another pawn in what has become his grand vision. His goal is to not create a machine but to create the future, regardless of where it is and under any circumstances. MacMillan, finding himself vulnerable after pleading to his father, returns to his condo defeated and encounters Howe and Clarke who have been waiting to propose that they still take the Giant to Comdex, using their own money. They pitch selling not just the machines, but their personalities and story of their struggle to complete the project. Will it work? Given the show has used the same strategy in selling itself to the viewers, its probably going to be messy.