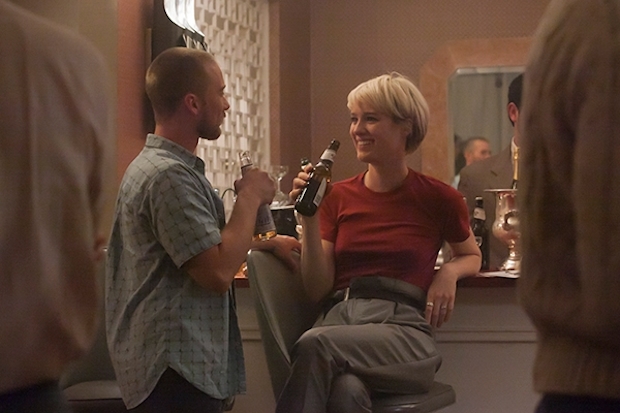 It's a shame that Halt and Catch Fire waited until this season's penultimate episode to be truly great because by this point who is still watching? Even the Woz isn't. I texted him the other night to get a consensus on the progress of the show and was disappointed to learn that he hasn't followed since the pilot. For a show that was marketed as a quasi-historical depiction of the eighties renegade technological revolution, the show spent to much time intimately exploring the demons of it's main characters.
It's obvious the majority of this season's budget went to fabricating the historical backdrop of the Comdex computer trade show which is excessively on display in this episode. You have the excitement of sex, booze and the potential to make a fortune that entails life and business in Las Vegas, against the desperate and cutthroat world of technological progress. Our team of Howe and the Clarkes, led by Joe Macmillan, combine their anti-hero powers of lying and manipulation to get themselves a suite and a booth at the premier trade show of the technology world. Conning other developers and seducing the crowds with shrimp cocktail and porn stars, The team navigates around the famous 1983 convention that is also hosting Microsoft, Apple, Xerox among others. Quips are made about the early "buggy" version of Windows and Howe develops a relationship with a young Xerox employee who drops inside information about the company's breakthroughs. A scene that foreshadows Howe's (and the show?) eventual and much needed move to Silicon Valley.
"Up Helly Aa" unfolds like a stand-alone TV movie and channel's the cult classic Pirates of Silicone Valley. Everything is magical in the beginning. The team seamlessly sets up shop and even throw their party and presentation without a working machine. One thing that stood out was Cameron Howe's idea for the Cardiff Electric Booth. Going against the standard setups around her, she builds a pyramid and chains a briefcase to the top with a sign that says "Inside this briefcase is a Giant," creating a viral atmosphere of intrigue. I couldn't help but thinking this was an early version of guerrilla marketing and displays Howe's purpose of bridging the audience of today's world and applying today's ideas to the limitations of her time.
As explained by Gordon Clarke, Comdex isn't about the convention it's about what happens in the hotel suits upstairs. The team organizes a a fancy spread and attracts a large group of interested parties from the cream of the crop of tech companies. Drinking and dining ensue while the Clarkes struggle to bring the Giant to working order, eventually fail to do so. At this point I was prepared for an all-out disaster, because things were going so far, so good. Nope. Once again in a desperate moment, Joe Macmillan uses sex to blind those around him and turn the situation in his favor. Shuffling porn stars into the party to distract their guests from inoperable portable PC, he asks that the crowd join them on the convention floor the following day in hopes they will get it working by then.
This is when shit finally hits the fan and it's truly heartbreaking. On a high from their wild night, the team cruises the convention floor and come across a crowd gathered around a booth. It's Donna Clarke's previous boss and former flame from Texas Instruments. Standing beside him was the uninspired coworker previously fired by Gordon at the inception of Cardiff's portable PC program. "Paybacks a bitch" is uttered as the Clarkes, Macmillan and Howe watch in horror as the two men unveil a clone of the Giant. This is a major setback and crushing blow to viewers following the progress of the PC, but what made me ill was how it all went down. After her many save-the-days and stable, caring presence on the show, Donna Clarke has caused all their sacrifices and work to go up in flames. She let herself be manipulated by her boss and caused the ground-breaking technology to slip out of her and Cardiff's hands.
Gordon Clarke manages to keep his head on straight and remains in control of the situation after he learns of his wife's attempted affair. He immediately and surprisingly goes right back to work to try and salvage what he can from the Giant. What he comes up with wouldn't be considered innovative against the backdrop of progress preached by the show and it's themes, but could save the team from financial ruin. A sacrifice is made for survival as explained by MacMillan. This theme is the strongest in the show and speaks to the problems with tech development throughout modern history. Howe's interactive operating system was always meant to be ahead of it's time and falls neatly in line with her mantra and ideas of what computers will be down the road. This leads to a heartbreaking moment when Howe discovers that Clarke has removed the system entirely to speed up the processor and turn the Giant into a basic functioning machine that will run traditional software–but at much faster speeds. The desperate move works and IBM offers them a healthy purchase price.
This episode makes a few promises for the future of this show (if there is a future) that if followed through with could make Halt and Catch Fire a pop- culture phenomenon. The setting of the Comdex trade show brings our characters into a much larger world and puts them up against players that viewers are already familiar with. This episode was timed perfectly with Comic-Con, a convention that helps bridge fans with their favorite artists, actors and filmmakers. This is what needs to happen in order to save Halt and Catch Fire. Viewers need to know that these characters and their struggles are part of a world they know, love and interact with on a daily basis. Having IBM and Texas Instruments as a presence on the show was a good start but stood only to serve the more tech and history-savvy viewers like myself. With Xerox and Microsoft making cameos and hints that the team will move to Silicon Valley, the show could go mainstream and be the Entourage of Northern California. My hopes are strengthened in the final moments of the episode as a bewildered Joe Macmillan wanders into a candle-lit room with some intrigued on-lookers. As he moves through the crowd, the very familiar Apple Macintosh emerges on display (nerdgasm). Macmillan is speechless until an Apple employee boots up the holy-grail of personal computing and utters the words "It Speaks".