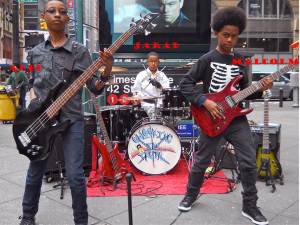 Move over J.Biebs, there's some freshly-minted tweenage angst in town: Unlocking the Truth.
These seventh graders still aren't old enough to score slow dances at bar mitzvahs, but they have just scored a $1.8 million record deal with Sony instead.
Unlocking the Truth is composed of three Brooklyn middle schoolers: guitarist Malcolm Brickhouse, 13, drummer Jarad Dawkins, 12, and their "best friend from pre-school," Alec Atkins, 13, who Mr. Brickhouse and Mr. Dawkins taught to play the bass "from scratch," according to their site.
In a classic story of modern fame, the middle school metal heads ascended from cool kids in the playground to cool kids on the internet via YouTube, Daily Intelligencer reported.
In the past year the trio have played Coachella, Webster Hall, opened for Guns and Roses, and are currently on the Vans' Warped Tour.
"I'm so excited! We've made it!" 12-year-old drummer Jarad Dawkins told The New York Post.
Both Unlocking the Truth and their parents were unavailable for comment, however they have already claimed that "Metal is in their blood," a likely factor of completing 6th grade science.
[youtube=http://www.youtube.com/watch?v=BjMfdzjbl_Q]