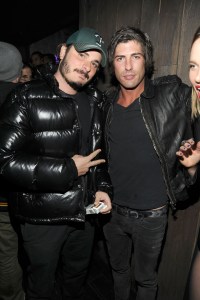 The Sotheby's skyboxes will be a little bit lonelier this year without Helly Nahmad. Even after a plea to teach art to the homeless, and character letters from art world luminaries such as Boy Meets World star Ethan Suplee, the flamboyant art dealer was found guilty of running an illegal gambling ring out of his apartment in Trump Tower, sentenced to one year and one day in prison, and has now been shipped up to the Federal Correctional Facility in Otisville, N.Y.
Before we get too teary-eyed, let's take comfort in the news that, according to Page Six, Mr. Nahmad spent his final days of freedom indulging in a "month-long pre-prison party," culminating with a "last supper of sorts" with magician David Blaine, who was probably planning a mystifying way for Mr. Nahmad to disappear from his cell. Or maybe they were just eating roast chicken or something.
There are no current exhibitions at Helly Nahmad Gallery.