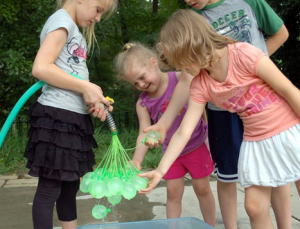 Finally, a Kickstarter we can get behind. A Texas father is crowdsourcing a genius device that solves the time-consuming problem of making water balloons. Called "Bunch O Balloons," the gadget attaches to a hose and not only fills, but ties, 100 water balloons in under a minute. Sounds like sorcery tbh.
Evil genius, inventor, and dad of eight Josh Malone set out with a $10,000 goal, but it has quickly approached $300,000 in the few days.the Kickstarter page has been active. The next step is obviously appearing on Shark Tank. 
In an interview with the Huffington Post, he said the inspiration for the one-time use nozzle came from getting tired of constantly filling up the balloons. "We put a lot of effort into filling them and tying them and being careful not to waste them before they're done," he said. "It's obviously very time consuming."
At least it's not potato salad.
(GIF via Huffington Post)