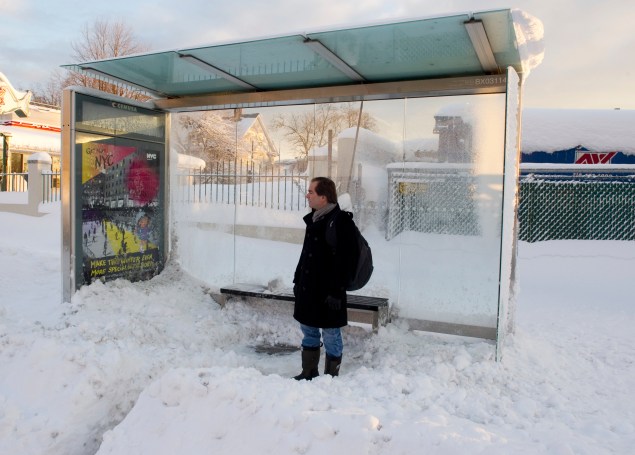 As one of the 11 City Council members who allocated funding from the city's Fiscal Year 2015 budget for installation of bus stop countdown clocks, and as chair of the Council's Committee on Aging, I felt it necessary to respond publicly to two ill-informed and poorly reasoned articles published last week.
The tone and one-sided perspective of the first article, published online on July 2 by Crain's New York Business, is clear upon reading its title: "Pols spend $2.8M on transit problem already solved." By claiming that my colleagues and I are simply "throwing millions of dollars" at that situation, the reporter implies we are naively wasting public funds.
That implication — along with the reporter's reasoning — is false, disappointing and, based on the facts of the matter, also somewhat confusing.
Bus stop countdown clocks allow city bus riders to easily and immediately know how close their desired bus is. They serve the same purpose as the countdown clocks already installed at many subway stations, to which the response from riders has been overwhelmingly positive.
In order to argue that bus stop countdown clocks are not worth funding, the Crain's reporter claims that the issue was "already solved" by the Metropolitan Transit Authority's recently implemented BusTime program. Along with being available via computer, BusTime allows riders who own cell phones to find how close their bus is by using the MTA's mobile website or sending and receiving text messages.
As proof that BusTime adequately serves that need for New Yorkers, the reporter cites the results of a Pew poll published in January, which found that 90 percent of Americans own a cell phone.
The argument fails to recognize several major points. In fact, that very same Pew poll also states that only 19 percent of America's seniors (age 65-plus) — and only 58 percent of all adults — own smartphones. In addition, only 47 percent of the nation's adults who make less than $30,000 per year own a smartphone, according to the same poll.
Based on that information, it seems very likely that many senior and low-income residents of New York City are only able to access the benefits of BusTime via text message.
The question then remains — do the vast majority of these seniors and low-income residents have unlimited text messaging plans that make it affordable for them to use BusTime on a daily basis, or multiple times per day? Probably not. And can we even assume that all of the relatively few seniors and low-income residents who own a smartphone also carry an unlimited data plan that makes it affordable for them to use the BusTime internet search on a daily basis, or multiple times per day? No, we can't assume that.
All I can say for sure is that my office has received many calls from residents within my Lower Manhattan district — many of them seniors on low incomes — who currently have difficulty taking the bus, because of uncertainty and the potential for long waits. Along with so many others across the five boroughs who live in similar circumstances, these residents are not being adequately served by BusTime.
In a second article on July 3, the aforementioned Crain's reporter continued to criticize the funding of bus stop countdown clocks, this time noting that "[n]ot all seniors of course are technophobes."
This time, as evidence, the reporter cited what appears to be an interview with a septuagenarian resident of Queens, who "told Crain's" about her ability to use a cell phone effectively. In fact, that quote was simply lifted from the comments section of the first article.
The reason I find this all confusing is because Crain's, a respectable and well-established news source, has basically decided to condemn my colleagues and me without conducting any of the proper research. The aforementioned reporter based his articles on a poorly cited poll and the online comment of one resident, while my colleagues and I have listened to thousands of seniors, low-income residents and other New Yorkers who want these bus stop countdown clocks.
I certainly know that not all seniors are technophobes. But I also refuse to ignore the voices of seniors, low-income residents and anyone else whose needs are not currently being met by what the city has to offer. That's why I chose to bring bus countdown clocks to my district.
Ms. Chin is the City Council member representing District 1 in Lower Manhattan.