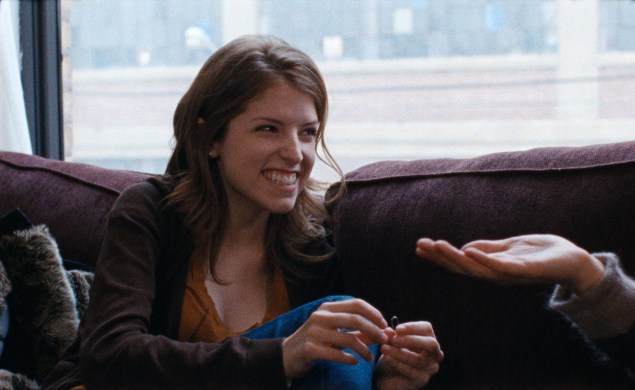 Joe Swanberg is a prolific indie-prod writer-director specializing in largely improvised low-budget movies that depend on actors who know how to direct themselves. The results are variable, exasperating, challenging, often both disappointing and exhilarating. These elements surface throughout Happy Christmas, often simultaneously. Mr. Swanberg is not a total amateur, but he is called "a doodler" for obvious reasons, all of them on red alert here.
---

HAPPY CHRISTMAS ★★
(2/4 stars)

Written and directed by: Joe Swanberg
Starring: Anna Kendrick, Melanie Lynskey, Joe Swanberg and Marc Webber
Running time: 88 min.

---
Jeff, a filmmaker, charmingly played by Mr. Swanberg himself, and his wife Kelly (Melanie Lynsky), a published author whose career is on pause since the birth of their 2-year-old son Jude (a scene-stealing explosion of camera-ready self-confidence played by Mr. Swanberg's own baby, a 2-year-old star-in-the-making, also named Jude). They live in a modest but well-appointed house in Chicago where life is good until the arrival of Jeff's flaky, motor mouth sister Jenny (Anna Kendrick), who comes for an indefinite stay during the Christmas holidays after being dumped by her boyfriend.
On her first night, Jenny leaves them to do the dishes while she races off to a party and passes out. Despite a massive hangover that seems to be constant, she is trusted with babysitting Jude, and she can't even do that right. Eventually she almost burns down the house. Turmoil ensues, until Jenny wins over her sister-in-law by feeding her ideas about how to write best sellers about sex for the female market. That's about all there is in this harmless, insipid comedy, until it runs out of ideas and tanks in its own desperation to keep the cleverness going by leaving the jokes up to the actors, who haven't got any. In the resulting gumbo, the point of the movie might be to ask: What responsibility do we have to ourselves and to others? But the actors are so busy babbling that nobody ever addresses the idea head-on.
Oddly, Mr. Swanberg gives the most convincingly down-to-earth performance in the movie, mainly because he devotes most of his time to playing with the irresistible Jude. Alas, he doesn't have much control over the others. I know Ms. Kendrick can act, because I've seen her do it—on the New York stage and in films by Jason Reitman (Up in the Air) and Robert Redford (The Company You Keep). But she was working for experienced, confident, self-assured directors then. She's dismayingly awful in Happy Christmas. I know she's supposed to be an irresponsible Looney Tune, but we're supposed to like her, too. And it's hard to succumb to the appeal of a drunken, pot-smoking nincompoop. She is matched in her incomprehensible gibberish by partner-in-crime Mark Webber as her love interest, Kevin. There's actually one mumblecore scene in bed between the abstrusely giggling Ms. Kendrick and the underwritten Mr. Webber in which not one coherent word is uttered between the two of them articulate enough to be deciphered by the human ear.
Encouraged to make it up as she goes along, Ms. Kendrick can barely make complete sentences that are not preceded by, followed by and endlessly peppered with the word "like." Trying to convince Kelly she'll get rich writing trashy pulp fiction, here is a direct quote: "Like, specifically, you know, if you have, like, a little money and you could just pay for, like, some child care, then you would, like, have time … have you read those, like, novels, you know, like the trashy, you know, like, sexy, ones? O.K., I have read them, and, like, I look at them and I'm, like, this is, like, you know."
The goal might be naturalism, but it's so irritating to listen to, and impossible to follow, that you could end up screaming. The, like, maddening result of so much sloppiness, in Happy Christmas, is, like, you know, illiterate.