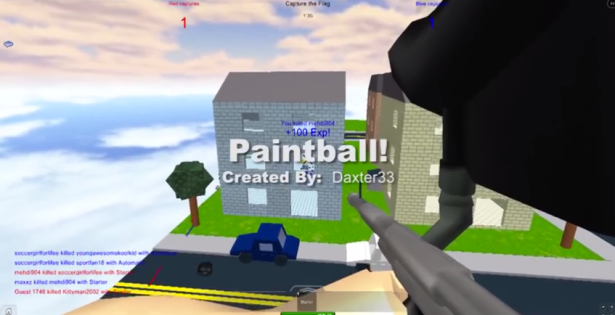 Josh Correira will start his freshman year at Rensselaer Polytechnic Institute this fall, but already the 18-year-old is raking in up to $4,000 a month — all because he programmed an online video game.
Mr. Correira has been making money through ROBLOX, an online platform where users — typically kids and teens — create and play games featuring blocks of different shapes, sizes and colors. ROBLOX launched its Developer Exchange program last October, wherein creators can convert the virtual currency earned through their games — called ROBUX — into real live cash.
In an announcement this morning that ROBLOX has debuted on Android, the site also said they've doled out over $315,000 combined to its developers.
"I've been using it as my job," Mr. Correira told Betabeat.
Mr. Correira, who goes by username Daxter33, started playing ROBLOX six or seven years ago. "It looked like a fun game to play, and it was fun. I continued to play because I can make games on it," he said over the phone. "I'm actually playing a game right now."
He created his Developer Exchange game, Paintball!, at the beginning of 2014. In the game, players are divided into two teams, and face-off in a paintball battle. When asked how much he earns through the game, Mr. Correira said, "recently it's been $2,000, occasionally it's $4,000" — pretty substantial earnings for a kid who only just finished high school.
"Some [developers] are in college, some are in high school, a few are younger than that — probably in the 13- or 14-year-old range," ROBLOX founder and CEO David Baszucki told Betabeat. "Some of them are getting 2, 3, 4, 5,000 a month. Once you start to hit 5 or 10,000 a month, it starts to be a pretty interesting job to do while you're in college instead of going and doing something else."
We were skeptical about whether kids younger than high school were responsible enough to be potentially receiving thousands of dollars over the Internet each month.
"We have to validate all of their information," Mr. Bazsucki said, "As far as taxpayer ID, we figure that out — we don't just send them a big PayPal check. Their family gets involved to the extent that it needs to. We need certain information before that money can change hands."
Does Mr. Baszucki see developers skipping college to pursue ROBLOX programming full time, we asked?
"I think more they're realizing how talented they are at an early age, and a wide variety of things, whether it's game design, development, writing code, creating digital assets [or] marketing," he said. "[It's] more of an inspiring thing that might drive someone to get excited and try to get a great computer science degree, or go to art school. I view it as more of an inspiration than a quit college early engine."
Though Mr. Correira plans on majoring in Chemistry so he can go into medicine, he definitely plans to continue making games on the side.
"I recently just bought a new computer," he said when we asked if he'd spent any of his earnings, "because mine's getting old and doesn't run games very well, which is basically what I do all day."