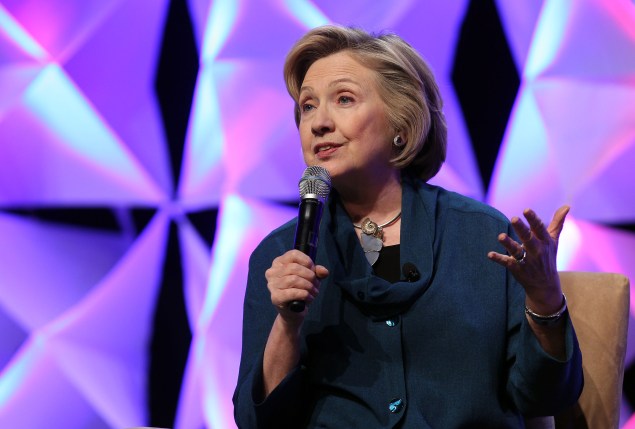 Though she didn't say much about what her next big dream is, Hillary Clinton urged children to dream big at an event held by the Bronx Children's Museum.
The former Secretary of State—and possible 2016 presidential contender—was among a slew of political figures speaking to the kids after they put on performances to cap off their "Dream Big!" summer arts enrichment program.
"Dream big, not only in this program, but keep dreaming big because we need you," Ms. Clinton told the children, whose performances she called "terrific."
She noted that the kids had also heard from Bronx Borough President Ruben Diaz Jr. and City Council Speaker Melissa Mark-Viverito, and would hear from Supreme Court Justice Sonia Sotomayor—all deemed by the museum as "famous people," rather than important ones, because everyone is important.
"Every one of us had to dream big, or we wouldn't be where we are today," Ms. Clinton said. "And we want to support you, just like we want to support the Bronx Children's Museum to be your partner."
Ms. Clinton also praised Ms. Sotomayor, a Bronx native, and urged people to read her book about her rise to the nation's highest court.
"She's one of our heroes," Ms. Clinton said.
While she may be used to shaking plenty of hands from her book tour, in an unusual scene Friday, Ms. Clinton was mobbed by children for hugs—at Ms. Sotomayor's direction.
"Go hug these famous people and tell them, 'Thank you,'" the Supreme Court justice urged a large group of kids.
Out of all the important people, a smiling Ms. Clinton was the clear favorite of the children.
While she didn't mention any presidential ambitions—much of the audience would be too young to vote for her anyway—that didn't stop others from mentioning them.
"It is never ever too late to continue to dream big," Mr. Diaz told the crowd before Ms. Clinton spoke. "Even if you are an expecting grandma, you can dream to be president of the United States—right Hillary?"
Ms. Clinton stood from her seat, turned to the crowd and waved, a smile on her face—perhaps waving off or waving on talk of a 2016 run, depending on how you'd like to look at it.
She did talk about what is more immediately in her future—a grandchild. Hope Harley, on the museum's board of trustees, noted "grandmother" would be Ms. Clinton's next title.
"I'm thinking a lot about children, about little boys and little girls, and that's why I love programs like this one, because you have very talented adults who are spending time working with you," Ms. Clinton said.
In all the singing and dancing, Ms. Clinton said she "saw the future up here on this stage."
The children wrote and performed songs of their own, prompting Ms. Clinton to observe to Mr. Diaz that they ought to compose a number for the borough's centennial.
"I think for the 100th anniversary of the Bronx, the Bronx needs its own song," Ms. Clinton said.
The event also honored Sonia Manzano, who works closely with the museum and plays Maria on Sesame Street, a show Ms. Sotomayor has appeared on to solve a legal case involving Goldilocks.
Ms. Manzano paved a way for other Latinos on television and worked to teach children about Spanish, careers and the world, Ms. Sotomayor said.
"People can be bridges, too—because they connect people," Ms. Sotomayor said.