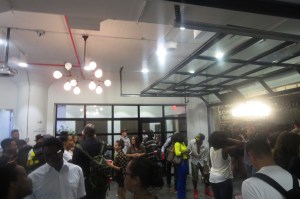 When Betabeat walked into Code&Beats, the dance party meets hackathon held last night at the Centre for Social Innovation in Chelsea, we saw an event with a lot of potential to get people excited about the world of code.
But despite the great location, De La Soul headlining the show, tons of programmers and an enthusiastic crowd, the night was a somber flop.
There were two themes: to connect the hip hop community with technology and to host a non-competitive hackathon to leverage the data generated by the music and dancers. The idea was to have the hackers code around the dancers as the dancers watched them code.
If you ever dreamt up a perfect venue for such an event, this was it. The third floor suite had an open dance floor and tons of couches and comfortable lounge chairs perfect for techies and their laptops. The setting's chic ambiance — complete with scattered chandeliers and a clear garage door acting as a room divider — made you feel as if you truly were in the presence of something up and coming.
At first, the vibes of both a tech conference and a party were in the air. Alongside the kind of guys you'd meet in tech stood hip hop fans in fly attire — some even sported white suit jackets. They all held keg-filled red cups typical of every party you attended before age 25.
The hackers were mostly alumni of The Flatiron School, who hosted Code&Beats along with Electric Circus and De La Soul. They stood near the computers alongside the dance floor, awaiting the promised hackathon.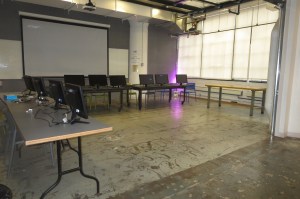 "We wanted to create a party that celebrated coding as a performance art" Avi Flombaum, founder of Code&Beats and dean of The Flatiron school, told Betabeat.
In theory, it's a great idea. So what went wrong?
For starters, disorganization plagued the whole thing. Also, it helps when an event gets going somewhere in the realm of the advertised start time.
Thirty minutes after the hackathon should've begun, everyone was told to exit, check-in and re-enter. Needless to say, the crowd was displeased and wondering why no one was stationed at the door before hundreds of people showed up.
They were incredibly understaffed. The two individuals working the kegs were clearly overwhelmed as they tried to serve the masses. The same went for the two friendly ladies making the mini sandwiches who'd put out a platter only to have it go in seconds as the crowd watched longingly and disappointed.
Standing, waiting for beer and waiting for food were the only activities occurring while we were there. After two hours, still, no one was coding OR dancing.
At that point, Betabeat decided to head out. We later found out we were't the only ones who were disappointed.
We didn't even know that shoes were being given away, so it looks like that speaks to their disorganization.
This event didn't deliver, but we suspect there will be more in the future. This was actually the second Code&Beats. The first, held four years ago, garnered a crowd of about 100, and code was indeed written.
Last time, Mr. Flombaum himself wrote a code to tweet out what track was playing and how many BPM it was. His friend then found dance videos on Youtube with the same BPM as the songs and spliced them in to make it look like the videos were dancing to his music.
Cool things can come out of this, and it's clear events like these have potential. If there's ever a third Code&Beats, we just might give it another go.