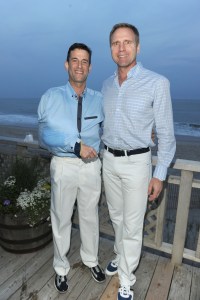 Four years ago, a banker reportedly offered real estate moguls and hoteliers Ian Reisner and Mati Weiderpass, of Parkview Developers, $15.5 million in cash for their penthouse duplex at 230 Central Park South. The condop had been assembled from five distinct units—a fragment of Parkview's considerable holdings in the building, where they owned about a quarter of the apartments—and been subjected to a $5 million gut renovation in 2005. But the pair could not imagine that they would find a replacement to rival their creation, and turned down the financier's proffer.
Having no-doubt filed away the banker's interest for future reference, Mssrs. Reisner and Weiderpass subsequently created an additional penthouse right beside their own, assembled from three apartments for a roughly 3,000 square-foot duplex. (The developers' own home, which is closer to 5,000 square-feet and has appeared in 30 Rock and the Hugh Grant/Sarah Jessica Parker vehicle Did You Hear About the Morgans?, Mr. Reisner told the Observer, ought to fetch something like $25 million—no bias there, of course.) But they did O.K., with the smaller penthouse, too, selling it off for $11.9 million, according to city records.    
Interiors here are an exercise in clean and lovely contrasts, set off by large and numerous windows, which afford plentiful natural light. High, white coffered ceilings soar over dark, wide-plank hardwood floors, which spread attractively between white walls trimmed elegantly with molding. (The sellers took the white-on-white-on-white motif perhaps a bit too far in the staging, to our minds, with the addition of a great deal of white furniture; it looks just a wee bit clinical in there.)
The listing, shared by Robert Browne, Chris Kann and Jennifer Ireland at Corcoran boasts of views of the Time Warner Center, Trump International Tower and 15 CPW, though we're not entirely sure that said views constitute a selling point. Aren't buildings supposed to stick around for at least a few dozen years before becoming visual attractions? (And is it really that hard to catch a glimpse of skyscrapers?) In any event, there are views of the Park, which is, of course, plenty old—and arboreal vistas, anyway, need no time to mature.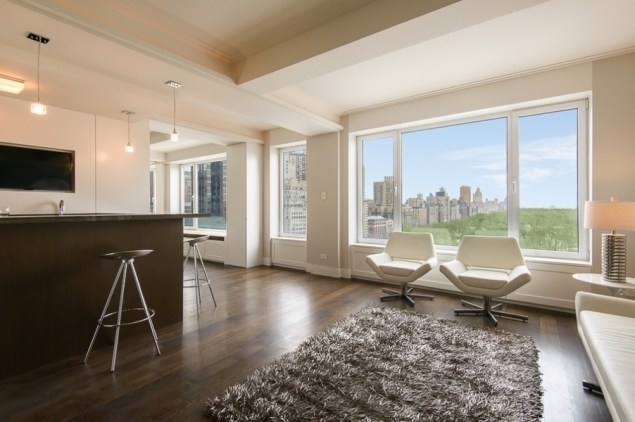 If their moniker is any indication, the buyers, Bellavista Properties LLC, must enjoy a good overlook. And if indeed they hail from the Continent, it's no trouble at all, because the Southmoor House requires "NO board interview, NO financial disclosure, NO letters of reference" (!!!) Thank goodness.
Updated 7/30/2014: A previous version of this article indicated that Mssrs. Reisner and Weiderpass had sold their own penthouse. They did not sell that apartment and continue to reside there. The unit sold was a smaller, adjacent property, which they also owned. The Observer regrets the error.