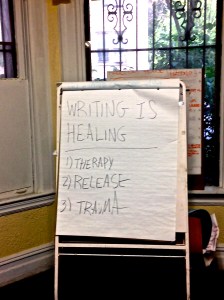 "Writing is healing," the teacher wrote in caps with a black marker on poster paper. He stood in front of five students Wednesday afternoon, seated at a long green table with metal chairs at a house-turned-office on Morris Avenue in the Bronx. He was a young man with a red Puerto Rican flag wristband and a cassette printed on his black T-shirt. The students ranged in age, color, demeanor and style, but they all came with wounds to heal; wounds exacerbated by their shared history of homelessness.
The students often change week to week, besides some regulars, but the class meets every Wednesday at 3 p.m. at Picture the Homeless. This nonprofit group consists of currently and formerly homeless people dedicated to advocating and changing the conversation about what it means to live on the streets or in shelters. Prophet, who teaches the class alternating between English and Spanish, might argue that changing the conversation starts in one's own mind.
"A lot of folks based on circumstances of their lives never had access to their own minds and own amazingness and own beauty. They don't feel right to feel free," he said in an interview after last week's class. "The biggest challenge is to get people to understand their own power and their own beauty."
Prophet started the class by trying to make his students realize the power of writing by comparing the process to therapy.
"If you don't have a therapist, you don't have anyone to talk to, do you find people to talk to? Have you been able to find people to talk to?" he asked the class. Silence swept the room and it was unclear whether the students were thinking of an answer or giving it. In a few minutes, one male student recalled the death of two family members within a month, and the feeling of having no one to turn to. "He could have come here," a female student sitting at a desk in the back of the room offered. "If I really really really need people to talk [to] here, I can do that," she said.
Prophet emphasized writing as a way of removing oneself from a situation and getting out one's thoughts in a nonviolent way.
"There's very few people we can talk to in the shelters," he said. "No kidding," a student echoed.
Below the original statement, Prophet made a list: 1) Therapy, 2) Release, 3) Trauma. He then asked the class to write about a traumatic experience that has influenced the path their lives have taken. The students did not waste a moment contemplating what to write, and after about 15 minutes, he asked the students to share how they felt, rather than what they wrote.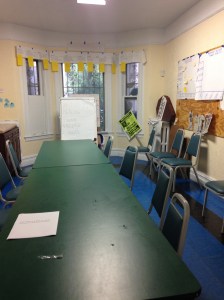 Tuya Vizcarrondo, 68, claimed to be a victim of guardian abuse, having been wrongly assigned a disability guardian in 2002, despite being able-bodied, after being forcibly removed from her rent-controlled apartment. She claims the guardian has stolen money and possessions from her home.
Ms. Vizcarrondo wore a white T-shirt with the words "STOP GUARDIAN ABUSE!" handwritten in black ink. "I guess that's another form of writing," she mused. In class, she wrote about the experience of being taken from her home by an officer one night.
"Did these same manly tattooed arms that nearly broke my own two arms as I lay fearful on the hallway floor. Ever hold a child or lover. Blow a kiss to his mother," she read aloud, trailing off at the end. Another student asked her to repeat it, wanting to hear her story.
An older female student contemplated whether her story was worth telling. "If I were to write a memoir, would people really relate to that?" she asked, noting she had written something she had talked herself out of writing earlier that morning. Prophet argued the irony of memoirs is that everyone is searching for a story to connect to, while fearing no one will connect to their own experiences.
He cited an African proverb to explain that writing isn't just for the professionals. "Until the lion learns to speak, the glory of the hunt will always be told by the hunter," he paraphrased.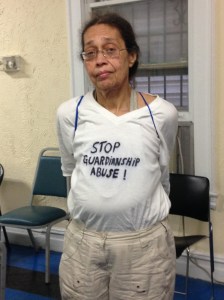 He decided to end the class on a high note and told the students to write about their futures. The woman in the back wrote about starting school soon. "It felt good," she said, "like I'm accomplishing something."
Prophet told Ms. Vizcarrondo to write about how it would feel to find an honest judge who would bring her justice. "Don't just write about it, feel the feeling," he instructed.
Before class ended, he assigned some homework. For the next three days, he wanted students to continue writing about traumatic experiences that impacted them.
"I want to know if you feel different on the fourth day than on the first day," Prophet said.