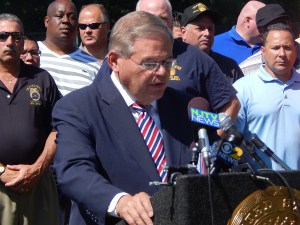 PARSIPPANY – Following a meeting in person on Thursday with three Central American presidents, U.S. Sen. Bob Menendez (D-NJ) said he is encouraged by the potential for a better partnership with the leaders of those countries as the United States seeks to stem a humanitarian crisis.
"I was impressed with the commitment of the Central American leaders with whom I met yesterday," said Menendez, referring to their efforts to crack down on smugglers engaged in the human trafficking of tens of thousands of Central American minors.
The presidents of Honduras, El Salvador and Guatemala complained to Menendez about the United States' narcotics crackdowns in Mexico resulting in the squeezing and relocation of drug cartels into Central America, which in turn has contributed to violence and the northern migration of immigrant children.
"I made it clear that as the United States looks to increase security and development assistance to Central America, we need to know that our commitment is matched by equal commitments and funding from the Governments of Guatemala, El Salvador and Honduras," Menendez said.
If that commitment is there, "We will be in a better position to help fight the drug trafficking," Menendez said he told the leaders.